Details

Written by

Monique Wilson-Stott, Podiatrist, Coordinator High Risk Foot Service Lismore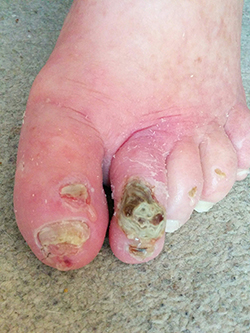 There is a large variation of clinical outcomes across regional NSW for High Risk Foot Service (HRFS) patients and there is evidence that a specialist outpatient service can improve outcomes. Decreasing the risk of lower extremity amputations, hospital admissions and the associated loss of productivity, morbidity and mortality can reduce associated hospital expenditures by up to 85%1.
The Agency for Clinical Innovation (ACI) Endocrine Network has identified the importance of standardising services across the State to reduce the variation in outcomes and ensure appropriate access for patients with diabetes related foot complications. Recognising that resources vary based on what is locally available the Lismore Base Hospital (LBH) High Risk Foot Service (HRFS) has developed a multidisciplinary HRFS in the Richmond Valley to provide a level of care beyond that provided by traditional podiatry.
The area has some of the highest rates of hospitalisation in the State for diabetic foot disease, a number of which are found to be avoidable2. This is at least partially due to Lismore Base Hospital being the tertiary referral service for both the Richmond and Clarence Valleys. Irrespective of the reason for the high rates of admission, there is a recognised need for an outpatient HRFS and escalation pathway, and for follow up for these at risk patients.
Details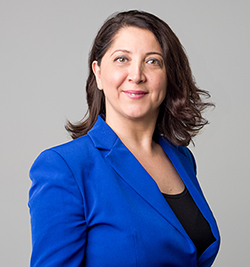 Neurological Services return to the North Coast 
After a gap of four years neurological services have returned to the North Coast. 
This is welcome news for local GPs and their patients who had been forced to travel to the Gold Coast for basic neurological services. It will be particularly welcome to orthopaedic and general surgeons evaluating carpal tunnel and other upper limb neuropathies. 
Dr Sue Baumann has relocated from Melbourne where she undertook a neurophysiology fellowship in nerve conduction studies and electromyography at the Austin Hospital. She has also completed a Doctorate of Philosophy in motor neurone disease at the University of Queensland. 
Details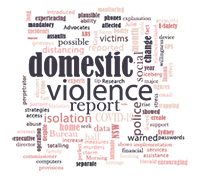 NSW Police data showed no major increase in reports of domestic violence during March 2020, despite the implementation of social distancing measures that experts feared would fuel violence at home, according to a report by the Bureau of Crime Statistics and Research. However, reported domestic violence related assaults began to rise in March, totalling 2678, up from 2632 in the same month last year.

However, this is only the tip of the iceberg, as ABS data shows that only half of all domestic violence is reported to police. NSW saw two murders and 35 incidents of domestic violence-related grievous bodily harm this March. Advocates warned that mandatory isolation, along with financial stress and a change in the operation of support services, would create a 'perfect storm' for intimate partner and family violence.
'It is possible the figures are stable because isolation strategies have affected the willingness or ability of people experiencing domestic violence to seek assistance from police,'' the report warned.

Details

Written by

Dr Bronwyn Hudson

There is no doubt that the COVID-19 crisis has seen an increase in the incidence of family violence. Movement restrictions aimed to stop the spread of the coronavirus are leading to violence in homes becoming more frequent, more severe and more dangerous. This is a pattern playing out around the world. 
It is known that DV goes up whenever families spend more time together, such as at Christmas and holiday periods. Increases in substance use during the crisis are also a contributing factor. 
While being confined to the home is difficult for everyone, the experience for victims of family violence presents more serious issues. For some, distancing rules have left them even more vulnerable. 
The United Nations Secretary General, António Guterres, tweeted a post calling for urgent action to combat the worldwide surge in domestic violence: "I urge all governments to put women's safety first as they respond to the pandemic." 
At the start of the pandemic, service providers reported a decrease in family and domestic violence enquiries. However, this soon took a turn to an increase in calls and internet searches relating to family violence as situations in the home escalated. Statistics from the Victorian Magistrates Court show an increase in calls to the Family Violence Contact Centre of 50 per cent in April, compared to February, before lockdowns began. There are reports of an increase of over 70 per cent of Google searches relating to domestic violence.
Details

Written by

David Guest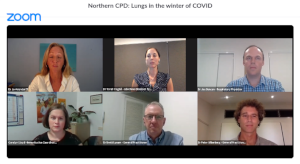 On April 20th 2020, North Coast General Practice Training conducted its first online training for local GPs. Unsurprisingly, the topic for the webinar was Covid-19. 
The meeting was run as a case discussion led by Tintenbar GP, Jo Addendorf, with input from local GPs Peter Silberberg and  Brett Lyneham on how North Coast general practice was dealing with the issue. Peter also highlighted aspects of care relevant to the Aboriginal community. 
Subject matter expertise was provided by Lismore Base Hospital doctors, Dr Sarah Coghlan (infectious diseases) and Dr Joe Duncan (respiratory medicine), and by Carolyn Lloyd, Immunisation Coordinator from the North Coast Public Health Unit.