Details

Written by

Mark Ellem - TNR Chartered Accountants - Advertorial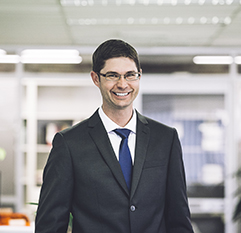 COVID-19 has been a shock to many businesses and in a lot of cases will cause many operations to cease. At this stage, there is no way of knowing how long this health and economic crisis may last. COVID-19 businesses can be broadly classified into the following categories:
Best case – limited impact to usual trading conditions

Likely – some impact to trading. Reduced activity and revenue, increased costs to meet social distancing requirements, disruption to supply chains, employees inability to work due to third party closures, inefficiencies in productivity if they need to work remotely, etc.

Worst case – forced closure periods or complete closure
There are a range of actions that your business may need to consider and implement to manage the risks associated with COVID-19. Actions should be designed after assessing the current financial status of the business so any measures introduced will assist with navigating through the crisis and also position the organisation to take advantage of the eventual recovery.
Details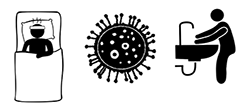 As if the expected upswing in presentations and admissions from coronavirus isn't enough to send shockwaves through public hospitals the latest performance figures show that facilities run by the Northern NSW Local Health District are already bursting at the seams. 
Data released in the Bureau of Health Information's Healthcare Quarterly Oct-Dec 2019 confirm that hospitals within the LHD's remit (Maclean up to Tweed Heads) faced a demand increase on almost every indicator, including arrivals at ED by ambulance (up by 4.1 per cent to 8416 over the past year), a 6.8 per cent rise in elective surgery, and longer wait times, and a 5.7 per cent increase in admitted patient activity. 
In the year analysed, 19 more babies were born in Northern NSW public hospitals. 
Despite these increased pressures, the system generally coped well, sitting close to the NSW average results in most areas, and bettering them in some: Median time for patients to leave the ED is now 2h 04m – 51 minutes under the NSW average. 
Read more: North Coast hospitals bursting in advance of Covid-19 pressures
Details

Written by

Robin Osborne, Editor GP Speak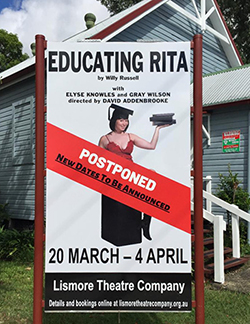 In the latest issue of GP Speak we ran a cover photo of Alstonville GP Luke Hogan performing in Ballina Players' excellent production of Wicked, The Untold Story, and a story about the wealth of theatrical shows that would be upcoming for the rest of this year. Local doctors were well represented on stages and behind the scenes,
The card for Ballina Players included the blockbusters Mamma Mia and Priscilla, Queen of the Desert, with the story more generally profiling offerings from the Lismore Theatre Company in the recently refurbished Rochdale Theatre, and the unfolding season of the Lismore City Hall based NORPA.
No one could have possibly predicted that soon after the Autumn issue of the magazine was released all of these shows would be cancelled, along with the closure of all Northern Rivers galleries, museums, sporting events, restaurants and cafes, and many of the businesses that were only starting to rebuild after the flood of two years ago.
Details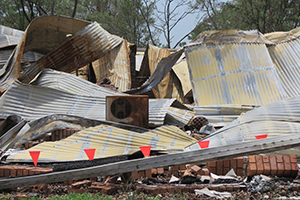 The North Coast Primary Health Network's three Clinical Councils have asked the federally-backed body's senior management, along with the heads of the region's two Local Health Districts, to place more emphasis on the "energy and environmental sustainability of health-care-related activity".
In a recent letter the Hastings Macleay, Mid North Coast and Northern Clinical Councils acknowledged work to date on enacting sound policies – for instance, the Mid North Coast LHD's Energy & Environmental Sustainability project has included the installation of extensive solar panels at Port Macquarie Base Hospital, saving $1/4m in two years.
However, the Clinical Councils spoke of a "climate emergency" and said they "wish to do more to both support and be supported by our state and federally funded health organisations".
Read more: Clinical Councils seek action on "climate emergency"
Details

Written by

David Guest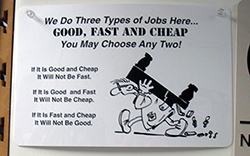 "Good, fast, cheap. Pick any two."
This business aphorism reflecting the economics of scarcity is relevant to most aspects of human behaviour. If something is good, demand rises quickly and suppliers are then faced with three choices; increase the price, delay the delivery time for the goods or services, or reduce quality.
One can escape from these economic constraints only through developing new techniques or innovations that allow for faster, better or cheaper delivery without compromising any of the other parameters, at least to any great extent.
Doctors have a fair idea of what constitutes good medical practice. GPs have encapsulated these principles in the basic tenets of the "Medical Home". In Australia the Medical Home is a person-centred offering, comprehensive, continuous and coordinated care that is readily accessible and of high standard.
For patients the question is much more difficult. They have no domain specific knowledge of their problem. They, largely, cannot tell good quality from bad, at least initially. However, they readily understand time and money and may base their decisions on those parameters.