Once I had a love and it was a gas
Soon turned out had a heart of glass…
- Blondie, Heart of Glass, 1978

A healthy resting heart beats at sixty times per minute and this number came to mind when glass sculptor Harriet Schwarzrock launched into what would become the most consuming project of an already distinguished artistic career.  Since graduating with Honours from the Sydney College of the Arts/Sydney University in 1999, Harriet has exhibited in Australia, the USA and Europe, gained a number of awards, scholarships and residencies, and become a favourite of blown-glass connoisseurs.
Soon, along with textile artist Valerie Kirk, she will undertake a two-week cottage residency supported by Crafts ACT, Parks ACT and  GeoScience Australia, focusing on bushfire impacts in the Canberra area.
While the Queanbeyan-based artist's output has included many traditional pieces such as vases and bowls it is her focus on anatomically heart-shaped pieces that has gained her a solo exhibition at the prestigious if unlikely venue of the National Portrait Gallery in Canberra. This show, 'Spaces between movement and stillness', opened several months ago during the run of 'Pub Rock', a gallery of Australian rock 'n roll photos, and it continues until 1 August 2021 in conjunction with the Australian Love Stories exhibition of diverse romantic images.
Entering this section of the NPG requires passing through a corridor within which sixty of Harriet's glass hearts are mounted on each wall. She doubled the number in order to have a pulse on both sides.
What makes the impact so striking, and, given the heart's symbolism, somewhat unnerving, is that each is a living object, filled with one or more vacuum-sealed inert gases that, when subjected to electricity, create a venous light show impossible to describe or explain, unless one is the artist who created them.
'These forms… manifest different qualities of pulsing energy and light. Intrigued by the mesmerising qualities of neon and plasma, the processes used to create this type of illumination are based upon early developments in modern lighting,' Harriet says, taking me on a tour, accompanied by rescue greyhounds, through the studio she shares with her partner and fellow glass artist, Matthew Curtis.
'As a glassblower I have been able to experiment with making sculptural glass forms to fill with this interactive light. These forms have inert gases sealed inside. Many have a mix of gases, including neon, argon, xenon and krypton.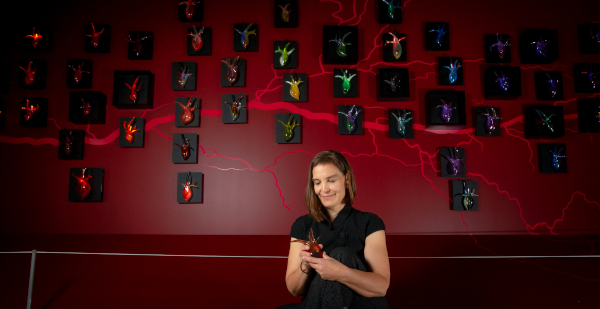 'Depending on the ratio and pressures, differing qualities of light are expressed. Sometimes they have a warm glow much like an aurora contained in a bottle, in others there are lightning like lines meandering around the form. 
'Although the gases are invisible, when excited by electricity they reveal subtle effects and differences. I am fascinated by this interplay between the invisible and the visible, between similarity and difference. Wonderfully this type of illumination can respond to our proximity exploring interconnection and how we affect one another.'
I couldn't put it better myself, except to wonder how on earth one creates a glass object, let alone a fragile and asymmetrical one like a heart, and then replaces all the air with gases like krypton – bringing to mind Superman – that we cannot see and could not afford: a small cylinder of Xenon, for example, costs $1000, and certainly can't be bought at Bunnings. When electrified, each gas has its own distinctive colour, and not what you might think. Neon, for example, is orangy-red. 
A comparison, with gases involved in both phenomena, is to describe the effect as an Aurora Australis in a bottle. 
The couple's workspace, built inside what was a biscuit factory, and later, they think, a carpet warehouse, is unlike any artist's studio I've seen. Huge furnaces tick away, heaven knows how hot it must be when they really fire up, while tubes for extracting air and infusing xenon, kyrypton, argon etc lie limp, awaiting activation. 
'Warning' tape circles the benches, like a police 'Do not cross' line.
'Is this a dangerous undertaking?' I ask Harriet, 'do things explode, might you get electrocuted?'
Negative on both counts, she says, although as with anything, caution is advisable. 
Harriet's ability as a glass blower and the concept of putting life into glass hearts using elements from nature, such as electricity, gases and ionised plasma, has brought her to the attention of critics and collectors as well as to a like-minded cohort known as the international Plasma Art Alliance. Members of this seemingly esoteric group do not work with blood products, as one might suppose, but 'are dedicated to promoting illuminated plasma in glass as a sculptural glass medium'.
Describing her glass heart journey, Harriet says that, 'Sometimes they have a warm glow, much like an aurora contained in a bottle; in others there are lightning-like lines meandering around the form. Although the gases are invisible, when excited by electricity they reveal subtle effects and differences. 
'When we're relaxed, the heart beats at a slow and steady rhythm; when excitement takes hold – for example, in the first throes of true love – the cadence might crank with the beat of a wilful, wild machine. Luminous alone, the myriad tones and permutations of spaces between movement and stillness also echo the boundless forms of love in the exhibition, Australian Love Stories.' 
A question often asked of 'installation artists' relates to the market for works of this kind. 
In this case, it's clear that a wall-mounted glass heart firing away (silently) with all colours of the rainbow would be a certain talking point in any home. As to owning more of them, it might be noted that last year the Heart Foundation acquired ten of them for its foyer from Harriet's previous run. 
As to where those from the exhibition at the National Portrait Gallery should go when Australian Love Stories closes, I have a firm recommendation, and intend to make it to David Walsh, the boss-man of the wonderous Museum of Old and New Art in Hobart: MONA is the natural new home for Harriet Schwarzrock's 120 electrified glass hearts, accompanied by the Blondie soundtrack.  
To explore more of Harriet and Matthew's works go to https://www.curtisglassart.com/