NorDocs has completed over 12 months of webinars since the onset of COVID19  restrictions. Highlights from last year were interactive sessions with local specialists on the subjects of carotid vascular disease management, modern psoriasis treatments, management of breast cancer and new options in the treatment of restrictive lung disease. 
This year there have been meetings on the team approach in addiction medicine, the relatively common North Coast malady of mammalian meat allergy (MMA) and the options for advanced upper gastro-intestinal surgery at Lismore Base and St Vincent's Private Hospitals.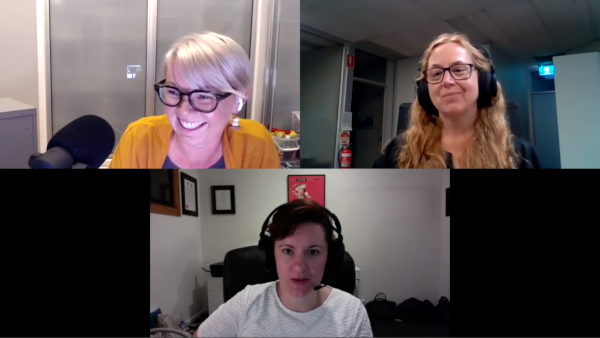 Drs Helen Lloyd and Susan Tyler-Free discuss MMA pathophysiology and diagnosis
with facilitator and Nordocs Co-Chair Dr Louise Imlay-Gillespie
Following feedback we have changed our format for future meetings and are focusing on making them more interactive. Each meeting will have a specific theme but we are increasing the time devoted to questions from the audience. At the end of each session we are broadening the scope of questions beyond that of the evening's topic to other aspects of local care.
Questions can be posed during the course of the webinar through the Zoom chat facility and also submitted prior to the evening by sending them to This email address is being protected from spambots. You need JavaScript enabled to view it..
Dr Peter Silberberg has taken on the role of facilitator for these meetings. Peter is an experienced GP educator who has  been involved in education programs for registrars and fellowed general practitioners. 
The new format provides an opportunity for GPs to get to know their local specialists better, learn of their particular interests and how best to manage pre referral, and pre and post operative care. 
Dr Shane Prodger kicked off the series on 11 August 2021 with Common Shoulder Problems in General Practice. Peter discussed with Shane his journey from local high school student to physiotherapist to orthopaedic specialist and finally his return to the North Coast. Shane notes that many shoulder problems do not require specialist review and can be managed by GPs, often in conjunction with physiotherapists.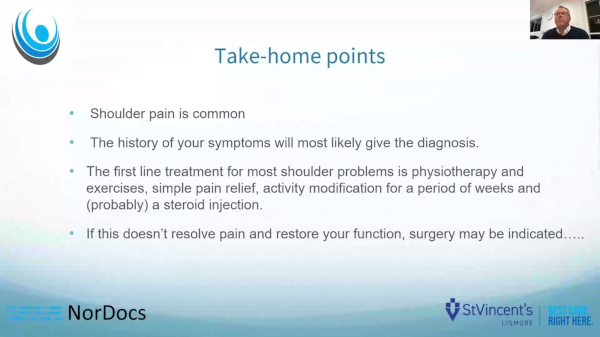 The next webinar was on 8 September 2021 on the subject of ADHD in adults. Local psychiatrists Drs Hugh Morgan and James Whan explored this topic with Peter. Diagnosis and management of adult ADHD has been specifically requested by Nordocs members since it is increasingly common for GPs to be asked about it by their patients. 
Future topics are to be finalised but we have received requests for updates in COVID-19 management, ophthalmology, psychedelics in psychiatry, paediatrics, gastroenterology, renal medicine, palliative care and the modern management of haematological malignancies.
Suggestions for future topics and prospective speakers can be sent to the Education Committee at This email address is being protected from spambots. You need JavaScript enabled to view it.. 
If you wish to be notified of upcoming meetings visit lists.nordocs.org.au and subscribe yourself to This email address is being protected from spambots. You need JavaScript enabled to view it..