Everything but trains will run on the 'recycled' railway line connecting Casino with the Tweed from late 2022.
It's been a long wait for those lobbying for a Northern Rivers Rail Trail but at last funding has come through to allow planning and construction to begin, with legislative changes in place to make it happen.
In October 2021 Kevin Hogan MP announced the allocation of $9.9 million in funding to build the Bentley to Lismore section. Both the Tweed end and the Casino end of the Rail Trail (24km and 16km respectively) are under construction and will be accessible by late next year.
When complete, the 130km Rail Trail will pass through some of the most scenic countryside in NSW, connecting Murwillumbah, Byron Bay, Bangalow, Lismore and Casino.
Like rail trails elsewhere, the local version should be a drawcard for walkers, hikers, runners, cyclists and horse riders, following the old North Coast railway line. It will offer a unique way to explore the region while helping to preserve the area's history and heritage.
Former Lismore City Councillor Glenys Ritchie has been lobbying for the Rail Trail for more than a decade and is active on the committee of Northern Rivers Rail Trail Inc. She has cycled on rail trails overseas and says they are beneficial for both physical and mental health and wellbeing.
'The Rail Trail offers wonderful outdoor recreation. I'm a cyclist but not a hills person, so the Rail Trail suits me because it's relatively flat and I know it's achievable. It's just nice to ride or walk, as you see things that you don't see when you are in a car.
'A rail trail is a nice, slow enjoyable, relaxing way of really seeing a place and meeting people. You'll be stopping at farm gates and there will be people there to have a chat to. And you stop at the next town and spend some money and go to a coffee shop and ask them about what's going on in their town. It's a very social activity and you feel some accomplishment when you've cycled 100km over five or six days,' said Glenys.
With easy access from Sydney and Brisbane, the Rail Trail is expected to attract many visitors to the area and there is great potential for both existing businesses and new enterprises to benefit.
Funding for the Bentley to Lismore leg of the Rail Trail was announced recently, with the expected to open in late 2023.  Lismore businesspeople are eager to make the most of this new recreational opportunity.
Darryl Pursey and Joanna Bonaccorsi, owners of the century-old Harris Cycles in South Lismore, say the Rail Trail seed was planted about 15 years ago when former SCU lecturer Will Palmer approached Darryl with the idea. 
However, when the Rail Trail lobbying started to get too political Darryl dropped out and instead got involved in creating Mountain Bike Trails locally. 
'Those Mountain Bike Trails have helped cycling become a family sport because they offer a safe haven away from traffic. And that's the beauty of the Rail Trail, you can plant the seed about the joys of cycling at a young age.'
Joanna said in the past cycling was mainly a solitary pursuit. Mostly 'middle-aged men in lycra' who could no longer run due to an injury and wanted to keep fit. Road bikes became big after the Tour de France was televised.
But in the past few years the appeal of cycling has grown.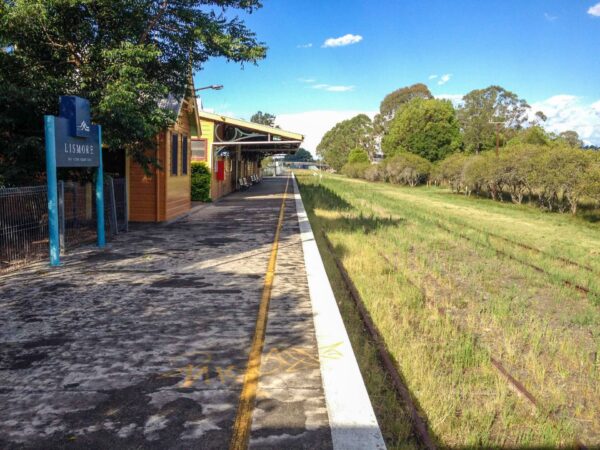 'Last Christmas the biggest percentage of bikes on layby were for teenage boys and I hadn't seen that since the BMX days 35 years ago. They've been on their computers but now they are getting back on bikes. It's great to see,' said Darryl.
He said recent lockdowns also saw families out getting exercise together.
'Through the lockdowns when the roads were quiet we'd never seen so many families out riding their bikes. The roads were safe and if the kids start doing that activity, hopefully it stays with them for a long time. That's a big health benefit.
"The availability of e-bikes means anybody now can get involved. With e-bikes you still get exercise and they work for people who otherwise wouldn't even think about going for a ride. So having the Rail Trail and e-bikes will make cycling much more accessible for families.'
Joanna said she and Darryl are looking forward to the Rail Trail opening and plan to ride the entire 130km when it's completed.
'With a Rail Trail cycling becomes possible for everyone, not just a select few. You can put as much effort into it as you want or not. Walk or cycle or ride a horse as far as you want. There are so many lovely little villages along the way. We are lucky to have such diversity of terrain with easy gradients. It will allow people to get out and see how nice it is to be out in the countryside on a bike.'
Other businesses excitedly waiting for the Rail Trail to come to Lismore are The Blue Kitchen Gourmet Foods and Two Mates Brewery.
Jamie Fell and Fran Austen closed the popular Blue Kitchen Café in Lismore earlier this year to devote their energy to their food van and to focus on their plans to revitalise the old South Lismore railway station. They have a DA before Council to transform the station into a restaurant, cafe and bar, and bring life back to the neglected building and station precinct.
Nearby, Grant Smith and Andrew Newton are hoping to open their new Two Mates Brewery by the end of the year. It's in Engine Street, near the old railway station.
The business partners want to create a family destination and they are ideally located to take advantage of Rail Trail users.
Glenys Ritchie encourages business owners who want to get involved along the rail trail  – with Bed and Breakfasts, cafes, farm stays and other enterprises  – to get in touch with Northern Rivers Rail Trail Inc. as there is support available to help people develop their business ideas. 
'The time to start planning is now,' Glenys said.