In late July 2022 the NSW Government and Healthy North Coast launched four new community support and wellbeing hubs across the Northern Rivers region to offer mental health support and build community resilience.
Established and funded by Healthy North Coast through the NSW Government's Northern NSW Flood Recovery Program, the four 'Safe Haven' hubs will be delivered and managed by local organisation, The Buttery. 
Located in Lismore, Murwillumbah, Mullumbimby and Woodburn, Safe Haven hubs will offer a free 'drop-in' service that operates 7 days a week, from 12-6pm. 
Healthy North Coast CEO Julie Sturgess described the Safe Haven hubs as places of support and refuge, offering immediate, personalised and compassionate mental health support and counselling. 
She described them as culturally safe spaces offering support to all community members, including people who identify as Aboriginal and Torres Strait Islander, culturally and linguistically diverse (CALD) Australians and people from the LGBTQIA+ community. 
'The North Coast has been hit hard recently by the devastating floods, coming off the back of the pandemic and other natural disasters,' said Ms Sturgess. 
We know many people are focussing on the basics right now, but we are also seeing great demand for mental health support to catch those in immediate distress or who might be feeling overwhelmed.' 
Service users don't need a referral or a booking, and access is free, weekdays or weekends. 
NSW Minister for Mental Health Bronnie Taylor said the four centres have been specially designed to provide a welcoming environment and offer a wide range of services, including information, referrals and counselling support.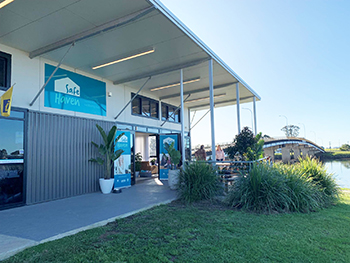 These Safe Havens are an approachable, welcoming alternative for people in distress who require acute mental health support and may be uncomfortable presenting to a busy emergency department,' Mrs Taylor said. 
'The NSW Government is investing $25 million over three years in mental wellbeing for flood impacted communities. $1 million of this funding is dedicated to the four Safe Havens in Northern NSW, with a further $7 million for clinical and non-clinical staff in the region, including staff at the four Safe Havens," Mrs Taylor said. 
Ms Sturgess said The Buttery, a well-established, not-for-profit mental health and specialist drug and alcohol organisation, was commissioned by Healthy North Coast through a competitive tender process. 
'The Buttery has been supporting the North Coast community since 1973 and has provided services to over 5,000 participants in its residential programs and 20,000 participants in its outreach services,' Ms Sturgess said. 
The Buttery Chief Executive Officer Leone Crayden said experienced mental health clinicians at each site will support anyone who arrives and needs urgent mental health support. 
'Safe Haven staff are trained in crisis response, acute interventions, counselling and case management. Non-clinical support, such as peer support from those with lived experience, are also available.
'Staff can refer clients to other mental health support services in the region and connect them with community services to address underlying factors causing their distress. These factors could include serious mental health concerns, drug and alcohol conditions, and stresses related to housing, finances, relationships, unemployment – anything affecting their mental health and wellbeing. ' 
More information at www.safehavennc.org.au or • Murwillumbah Safe Haven Shop 10-12, 41-45 Murwillumbah Street, Murwillumbah • Mullumbimby Safe Haven 15 Tincogan Street, Mullumbimby • Lismore Safe Haven The Quad, 10 Magellan Street, Lismore • Woodburn Safe Haven Visitors Information Centre, 114 River Street, Woodburn.