The eagles weren't soaring when I visited Wedgetail Retreat nestled above the Dulguigan valley beyond Murwillumbah, although the kookaburras, butcher-birds and magpies made up for their absence.
Enhancing the idyllic scene were the distant cloud-capped mountains, a sweep of glistening canefields, and the tranquil gardens of the facility itself, fringed by remnant rainforest trees.
While resembling a North Coast pamper-resort, the facility caters not to 'health junkies' but to people (adults and children) with truly life-limiting illness. This is a hospice where the terminally ill, after suitable medical assessment, can spend their end days, or enable respite for their carers, in the most delightful of settings.
Residents may be accompanied or visited by family members, even a companion pet, with the added assurance of nursing supervision. An on-call physician based in Pottsville is also part of the clinical team.
Wedgetail Retreat is operated by Tweed Palliative Support (TPS), a community not-for-profit that was established in 1998 to provide cancer support and home-based palliative care services within the Tweed Shire.
Since then, with the assistance of a generous, interest-free loan from a community source, now fully repaid, TPS has purchased the land and built the infrastructure, including a storage barn for home support equipment that is loaned out free of charge.
Live-in residents may come from outside the Tweed area, with priority given to people from within the Northern Rivers. There are four en suite rooms, each with a covered verandah, while the open plan of the main building's interior has vaulted ceilings and ample space for both socialising or privacy.
"We can't speak highly enough of how this wonderful place and its people have helped my mum, and our family" – Raymond van den Berg
Food preparation is usually done by family members who bring in their own supplies, although meals can be prepared by staff and volunteers if preferred. The main fridge is kept stocked, with each room having a small fridge so families can access their drinks and food.
Wedgetail Retreat charges no fees to cover its substantial running costs - approaching $750,000 annually – relying on its op shops in Murwillumbah, memberships, bequests and donations, and fundraising events.
The next major fundraiser, a gala dinner at the Tweed Regional Gallery (home to Margaret Olley's relocated Sydney home/studio) will be held on Saturday 30 May 2015.
Since its founding, as TPS president, Meredith Dennis, told GP Speak, "We have been providing emotional, social and daily living support such as transport to appointments, shopping, carer respite, loan of equipment and access to cancer and bereavements support groups.
"When we opened our first little op shop on top of the hill near the [Murwillumbah] hospital in 2006 who would have believed that only a few years later we would purchase Wedgetail Retreat?"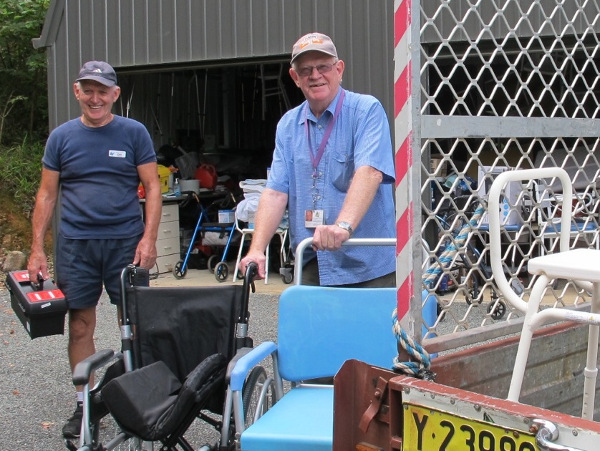 Loan equipment volunteers John Leslie (dark shirt) and Bill Brodie, Vice-President of Tweed Palliative Support.
In fact, anyone who has seen the enthusiasm of the volunteer team, or the joy of patients visiting Wedgetail Retreat for the regular 'pamper days', would not be in the least surprised by their success.
"Every life matters and every moment with family or friends during their journey with life-limiting illness is precious," Meredith Dennis added.
The energetic TPS patron is well-known local identity Margot Anthony, wife of former Nationals' leader Doug. Another strong supporter is State MP for Tweed, Geoff Provest, who has praised the project to the NSW Health Minister.
The impression made on leading clinicians was highlighted during the recent visit of palliative care advocate Professor Ian Maddocks AM, 2013's Senior Australian, who spoke glowingly about the project after his talk on 'Dying Well'.
It seems all TPS's ducks have lined up, even if those eagles weren't in attendance on the morning I dropped by.