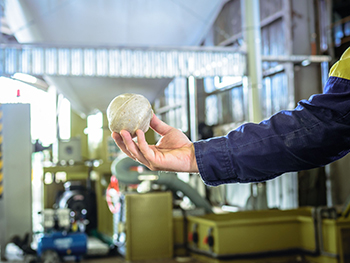 Recycled polystyrene balls are reprocessed into items such as photo frames and architraves.
Who hasn't opened a box containing an electrical good only to groan at the polystyrene packing – call it 'styrofoam' if you like  – that has been cleverly shaped to protect it in transit. The challenge then becomes getting it into the recycling bin before it can break up, leaving bits of white synthetic aromatic hydrocarbon polymer (to use its proper name) all over the house or garden.
While this unloved but useful product has long been recyclable it can now be handled in greater quantity thanks to funding from the NSW Environment Protection Authority for Lismore City Council's Recycling & Recovery Centre to instal a new processing machine.
Details

Written by

Super User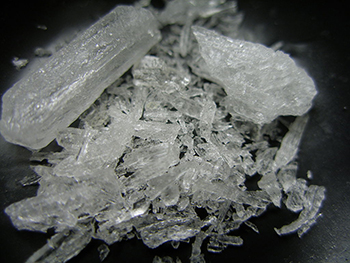 In a robust commentary on the managing of the state's drug policy the former head of the NSW Special Commission of Inquiry into the Drug 'Ice', Professor Dan Howard SC, has penned a second article urging the NSW Government, now under different leadership, to respond to the recommendations of the inquiry he headed.
The op-ed piece, again published in The Sydney Morning Herald, began with saying, ' I wonder how many citizens of NSW realise that, for more than a decade now, we have had no formal drug and alcohol policy whatsoever.'
He said the four-volume Report of the Special Commission has been 'widely embraced by the drug and alcohol sector as a powerful way forward. The NSW Bar Association has endorsed all 109 of its recommendations. 
'This month, the Royal Australian College of Physicians, the Royal Australian & New Zealand College of Psychiatrists, the Royal Australian College of General Practitioners and the NSW branch of the Australian Medical Association issued a joint statement calling for a response.'
Details
The last 18 months has been testing for many volunteer organisations. Co-Chairs Nathan Kesteven and Louise Imlay-Gillespie report on Nordocs's activities over the last financial year.
Nordocs, unlike many other charities, has weathered the covid-19 storm relatively well. Much of this success can be attributed to our restructuring as a virtual organisation several years ago. As a result face to face restrictions did not impact greatly on our day to day activities. 
Nordocs was also the recipient of financial grants from the government as part of their covid-19 relief package for businesses and charities. Covid-19 infections escalated rapidly in  December 2021 and general practitioners assumed responsibility for community based care for mild to moderately severe cases. After discussions with the Northern NSW LHD some of the covid-19 funding was used to set up support for local GPs by implementing the online coordination software, Basecamp. 
Our core activities of education and communication were largely revenue neutral for the year and so with the help of the government grants the organisation made a small profit in the last financial year.
While it has been disappointing that we have not been able to host any live events ourselves, we have run 10 webinars on Zoom over the course of the year. These online meetings provide an opportunity for local specialists to bring the latest in their fields to North Coast GPs and to outline any new services that have become available in the area. 
The monthly meetings are usually case based to highlight areas of management that have changed. They provide members with an opportunity to post questions regarding local clinical management. Dr Peter Silberberg has been the medical facilitator for these meetings and the series will continue in the first half of 2022. The next meeting is on 9 March on the subject of Autism Spectrum Disorder. 
The meetings are broadcast at 7.30 pm on the second Wednesday of the month and are recorded. This year we have archived the meetings on our new YouTube channel. The recordings can be found by searching YouTube for "Nordocs Australia" or by clicking the YouTube link on the Nordocs' home page.
Nordocs has provided logistical services to the Northern NSW LHD for their education programs. In the last year the Departments of Anaesthetics, Orthopaedics  and Accident and Emergency have run courses for their members. Upcoming meetings are advertised internally through the various departments but can also be found via the Norshop link (http://nored.nordocs.org.au) on the website. 
Nordocs Magazine is published quarterly and informs members and the public of the medical events on the North Coast. Our irregular newsletter alerts subscribers to new articles on the website. Notifications of upcoming meetings are also posted there. The newsletter and magazine try to live up to its motto, "Nordocs. Keeping the finger on the North Coast's pulse". 
The magazine also aims to be the journal of record for North Coast medical matters. In the last year it has paid tribute to prominent members who have been recognised by the wider community. 
Dr Chris Ingall has interviewed two well known North Coast specialists on their retirement. Dr Austin Curtin, AM, has wound back his surgical practice after more than 30 years service to the North Coast and anaesthetist, Dr Brian Pezzutti, has also stepped down as Chairman of the Local Health District after his many years of service to the community in health administration, politics and the military. 
We have also sadly reported the passing of Dr Neil Thompson. Neil was the Richmond's valley first orthopaedic surgeon and in retirement chronicled the first 120 years of medical practitioners in our area. Profits from his book, Sawbones, Saddle Burns & Soothing Balms, are directed to Nordocs. 
The great work of Linda Ward, our chief executive officer, should be acknowledged. Linda's management and financial skills have allowed the organisation to get through these difficult last two years and have put us in a great position to carry out the goals of the organisation for the next few years. Her efforts are greatly appreciated. 
Retiring from the Board this year are Susan Tyler-Freer, Co-chair Louise Imlay-Gillespie and Secretary, David Guest. The Board is seeking new members to guide the direction of the organisation in the coming years as we emerge from the restrictions of the covid-19 pandemic and resume normal activities again. 
We are hoping to hold a face to face meeting later in 2022. This format is yet to be determined but there is interest in using the same approach as the Unconferences that were held in 2018 and 2019. These were a great opportunity, away from the pressures of clinical practice, at least for a few hours, for us all to socialise and come together as a medical fraternity. 
We hope you can join us for the next meeting. 
Details

Written by

Dr Nathan Kesteven
Images attached:  Photo of Nina Best;  Nina's painting 'Manifestation'; photo of Sharlala with her paintings (blue/green paintings);  photo of Tigah Macey with her paintings (including mushroom) and photo of Tigah's mushroom painting
Those lucky enough to view the one-day pop-up Mental Health Awareness Month exhibition at Lismore Regional Gallery in late 2021 were treated to a fabulous array of artworks. 
The exhibition included work from 12 experienced and emerging Northern Rivers artists. Some attended a Mental Health Month art workshop staged to help participants benefit from the restorative power of art and creativity. The exhibition was a collaborative project by local mental health organisations, coordinated by Nerida Lawson from Richmond Clarence Mental Health Services.
All the artists had a lived experience of mental health issues and recovery. 
Moving around the exhibition space visitors encountered sculptures, ceramics, painted objects and drawings and paintings of all kinds.
The striking image on the cover of this issue is the work of Lismore artist Nina Best.
Details

Written by

Janet Grist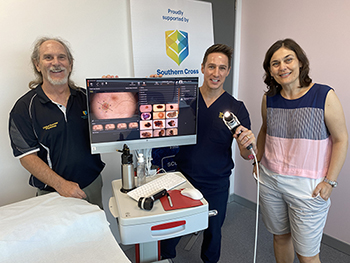 Melanoma is often referred to as "Australia's national cancer", with the nation  recognised as having the highest incidence of non-melanoma and melanoma skin cancer in the world. One in three Australians are diagnosed with skin cancer by the age of 70, and those residing in Northern NSW and Queensland face the highest risk of developing melanoma.  
Surfing and swimming are two popular recreational activities in Australia, with an estimated 2.7 million surfers and three million swimmers nationwide. These activities are associated with prolonged intermittent exposure to ultraviolet radiation (UVR), which is recognised as a causal mechanism in the development of pre-cancerous skin cancers (actinic keratosis), non-melanoma  (basal cell carcinoma, squamous cell carcinoma, and squamous cell carcinoma in situ) and melanoma skin cancer. 
Southern Cross University's Aquatic Based Research Unit recently completed the first in its  series of studies on skin cancer in aquatic enthusiasts. We conducted whole-body skin checks on surfers and swimmers in South-East Queensland and Northern NSW and found despite very high usage of chemical or physical sun protection strategies (100% and 92%, respectively) that 50% of the surfers and 27% of the swimmers were identified with at least a single skin cancer. 
Details

Written by

Associate /Prof Mike Climstein, Dr Nedeljka Rosic, A/Prof Michael Stapelberg
Read more: Non-melanoma and Melanoma Skin Cancers in Surfers and swimmers