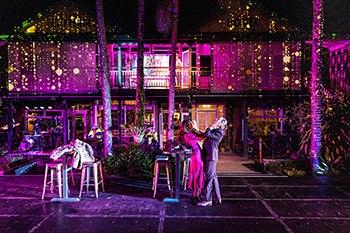 NORPA production at the Eltham Pub, September 2022
Thank you NORPA for presenting the Lismore district with a theatrical allegory of our story of the last three  years. The well orchestrated.concept of the production began with the audience enjoying a pub meal, followed by a staged theatre production. Groups of friends had gathered around tables at the Eltham Pub, catching up over a meal and a drink or two. Almost seamlessly, performers occupied their own tables and began performing their stories. The hotel itself was the stage upon which stories of love for one night were told. The stories moved between the different sets which were the bar, beer garden and the accomodation rooms on the top floor, as lost love was rekindled and new love found.
It was an inspired concept and worked a treat. At times you were not sure whether you were watching a cast member or just a random punter going for a beer.
The "love stories'' were a mixture of love in all its forms. They ranged from old lovers once spurned, meeting and finding love again, to the unconditional love a parent has for a child which knows no chronological end point. The mother's voice enquiring of her adult son "so they've let you out of rehab for a day trip to Byron'' was said more with hope than ignorance of the inevitable response.
Details

Written by

Reviewed by Peter and Gai Phillips
A Southern Cross University led survey will seek the views of flood and landslide-affected Northern Rivers residents about the most effective response and recovery efforts.
The findings will inform the development of improved support systems and policy, with a particular focus on community-led recovery efforts.
The final report can also provide learnings to support increased community resilience and adaptive capacity in the face of natural disasters, according to Dr Hanabeth Luke, the project leader.
Southern Cross has partnered with formal and informal community hubs and recovery centres, including Wardell CORE, Resilient Lismore and the Woodburn Recovery Centre all of which have been an integral part of the response to the Northern Rivers flood events.
Details

Written by

Robin Osborne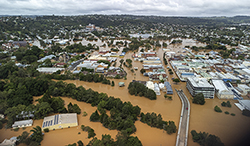 NSW Premier promises to 'rebuild and retrain' communities for a safer future.
In the corporate world the month of August is known as "reporting season", the time when companies announce the results of their previous financial year's trading. August 2022 has earned a special claim to the title through the release of several high-level government reports on diverse matters.
One, reported elsewhere in this magazine, was the report of the Royal Commission into Defence and Veteran Suicide.
 Another, of particular interest to residents of the Northern Rivers, is the report of the NSW Parliament's Legislative Council (LegCo) Select Committee on The Response to Major Flooding Across New South Wales In 2022. 
Details

Written by

Robin Osborne
Read more: Reporting season delivers flood of words about Lismore's fate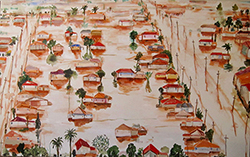 Well-known artist Geoff Harvey looked no further than the flooded city of Lismore as inspiration for his entry to this year's prestigious Wynne Prize, awarded to the best landscape painting of Australian scenery, or figure sculpture. 
The dramatic work made the final cut – 34 selected from 601 submissions - but in the end was not judged the winner.
Geoff said, 'I painted this image of the recent floods to help me come to terms with what had just happened to Lismore. My own house was washed away in the surging floodwaters and completely destroyed. Fortunately, no one was hurt as it was vacant at the time.
Details

Written by

Robin Osborne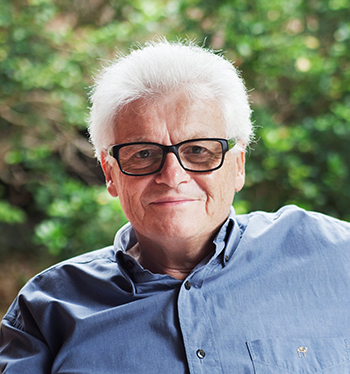 I arrived in Lismore in 1979 and my aim was to get a job as a GP. I had already tried to get work in Pt Lincoln a major fishing town on Eyre Peninsular where an uncle lived. After a flight there with partner Jeni Binns we returned having not secured a job – no vacancies.
I then drove to Lismore and again stayed with another uncle at Teven and tried to get work in this region. The same problem arose in that trying to get work as a GP in Alstonville or Lismore was met with the same response ie no vacancies.
Details

Written by

Andrew Binns