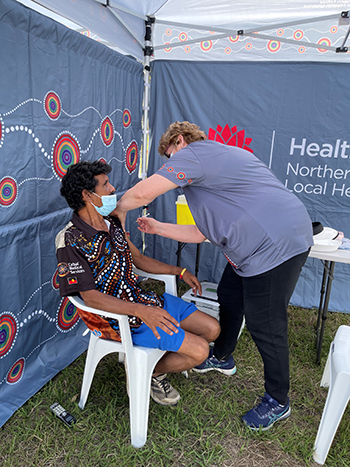 As Australia moves towards a high percentage of adults being fully vaccinated for COVID-19 the vaccination rates for Aboriginal and Torres Strait Islander people, the most vulnerable population, still has some ground to cover.
The disappointingly low COVID-19 vaccination rates cannot be attributed to one single cause. Undoubtedly, the roll out of, and access to, the preferred vaccine, this being Pfizer, is one factor. Vaccination hesitancy, fuelled by widespread misinformation and hearsay, is another. Additionally, some communities of faith have perceived contradictions between their beliefs and the health advice.
In Northern NSW, Bulgarr Ngaru Medical Aboriginal Corporation (BNMAC), estimates the total eligible Aboriginal population for COVID-19 vaccination to number 4,500 adults but by mid-August 2021 only nine per cent of this population had received the first vaccination dose and seven per cent were double vaccinated. 
However, a vaccination drive and the increased availability of the Pfizer vaccine nearly doubled this figure within the next fortnight, resulting in some 16 per cent receiving a first dose and 15 per cent being fully vaccinated. 
This surge in vaccination uptake coincided with the spread of the Coronavirus in the Aboriginal populations of Wilcannia and Walgett  – living proof of the devastation that the virus could cause. The first, unfortunate Aboriginal death in Dubbo, of an individual who was not vaccinated, was a wakeup call for many. 
Details

Written by

Scott Monaghan
Read more: Partnering vital for boosting Aboriginal vaccination rates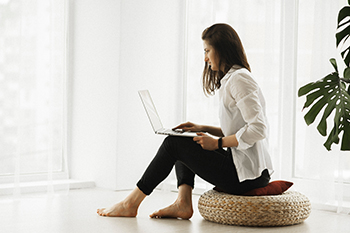 The COVID-19 pandemic has shifted perceptions of the health system. With virtual healthcare, some acute conditions can be treated at home.
This article by Martin Bowles, former Northern Rivers Area Health Service CEO and former Secretary of the Commonwealth Department of Health first appeared in John Menadue's Pearls and Irritations in September 2021. 
I have long believed we need to see a shift from our fixation on beds in hospitals. We have seen successive governments focus on beds as a proxy for the healthcare system.
We have also had a very structured view on how we pay for healthcare. We have a transactional approach to care. While this is fine for my broken leg or a simple viral infection (not COVID-19, of course) it is not appropriate for someoneThe COVID-19 pandemic has shifted perceptions of the health system. With virtual healthcare, some acute conditions can be treated at home.
with a long term chronic condition. Where we need multidisciplinary care, we need a different payment structure to support that care.
Details

Written by

Martin Bowles
Read more: After the pandemic, virtual healthcare is the future
In one of the most famous lines in American literature – uttered by Nick Romano in Willard Motley's long-forgotten novel Knock on any Door – the advice is to "Live fast, die young, and leave a good-looking corpse." 
A number of rock singers and others have heeded this advice, although the state of their corpses has often fallen short of the mark.
In the opposite corner stands Rheumatologist and Stanford University Professor Dr James Fries who more than 40 years ago coined the term 'compression of morbidity', meaning to minimise the duration of chronic disease suffering before death, the aim being to improve the quality of our older years. For budget watchers such as politicians this wise advice also relates strongly to the subject of health costs.
Although compression of morbidity has now become a key goal of healthy ageing and longevity it may be easier to express than to achieve, unless appropriate strategies are put into place.
Details

Written by

Andrew Binns
Southern Cross University announces hundreds of scholarships are available for Indigenous students in 2022
Anthony Olive, Team Leader of the Indigenous Australian Student Services (IASS) at Southern Cross University, said the North Coast (Bundjalung Country) based institution is proud of its strong Indigenous cohort, and is continually working to increase Indigenous student participation in higher education through personalised support and decreasing financial barriers.
'On average our IASS team at Southern Cross University supports more than 400 Indigenous students annually with some form of scholarship," Mr Olive said.
'These scholarships are deeply appreciated and very meaningful to our Indigenous student cohort, ranging from textbook bursaries of $150 right up to full time educational and accommodation scholarships of $2,500 and $5,000, and in 2022 these will increase to a top of $8,000 a year over three years, with an increased Indigenous scholarship pool worth more than $1million.
'These scholarships make up part of the wider scholarship pool worth approximately $3million in 2022.'
Details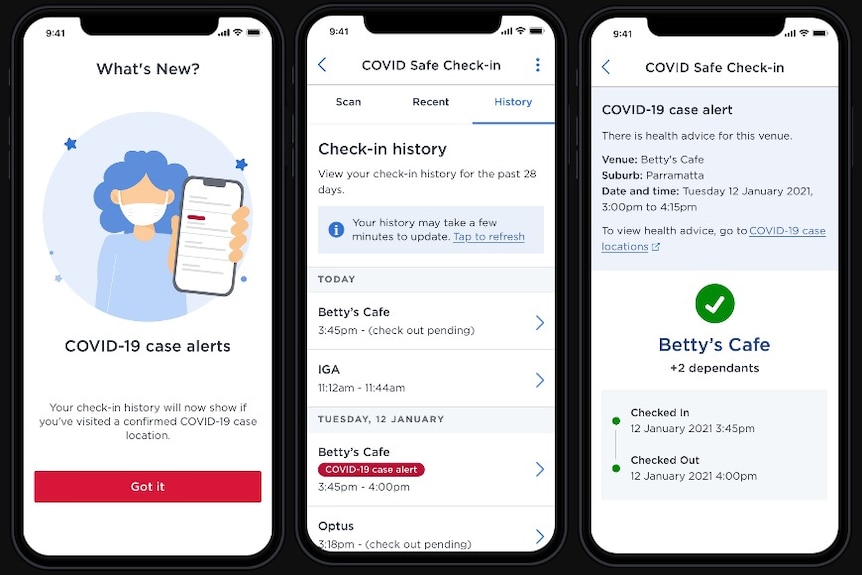 Masks, lockdowns and check-ins. These were the defining features of 2021.
Like so much of the country the NSW North Coast had lived in relative isolation until late autumn this year when Delta's dawn exposed the first cracks in fortress Australia.  
It started innocently enough in June when an unvaccinated limousine driver transporting airline crew tested positive in Bondi. The state's COVID-19 vaccination program had begun but supplies were limited and even individuals at high risk of getting the infection had not begun vaccinations. It did not seem too much of a concern, however. We had done it all before with Ruby Princess and Crossroads and this would come under control as well. 
It was not to be. This was the highly infectious Delta strain and NSW Health soon had to inform the NSW public that this time it was serious and more particularly it was going to get worse, not better. 
Details

Written by

David Guest