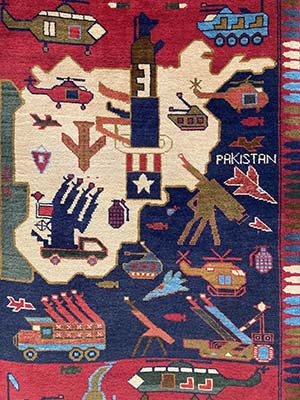 I weave what I have seen: The War Rugs of Afghanistan, an exhibition at the ANU's Drill Hall Gallery.
In the mid-1970s, when I was last there, the rug shops of Afghanistan's capital Kabul stocked a treasure trove of handmade creations, notably the deep-red rugs and hall runners for which the country was, and still is, famous. The designs were abstract yet symmetrical, rarely featuring human or animal figures, or identifiable objects, certainly not guns and fighter aircraft.
But that has changed, as Afghan society at large has changed.
From late 1979, when the USSR's troops entered the country to preserve a puppet regime, Afghanistan has been on a timeline of conflict that continues to this day, and the images of its unasked-for war have been recorded on an unusual tableau, its woven rugs.
Details

Written by

Robin Osborne
Two Afternoons in the Kabul Stadium
Tim Bonyhady
Text 331pp
Coinciding with the latest fiasco in Afghanistan – the resurrection of the fundamentalist Taliban – this history of the central Asian country 'through clothes, carpets and the camera' is book-ended by two events, both centred on women, which represent the country's cultural extremes.
Both took place in Kabul's Ghazi Stadium, built for soccer and buzkashi matches, and each was witnessed by crowds in almost equal parts pleased and shocked. The first was in 1959, when, after three-plus decades of being closed to females, the stadium bore witness on national independence day to an orchestrated removal of head covering by women from the country's ruling elite, many also wearing Western dress. As photos in the book show, their action highlighted the trend for unveiling and wearing a form of 'mini-skirt' that was becoming increasingly common in the progressive capital city.
Details

Written by

Robin Osborne
Read more: Book Review - Two Afternoons in the Kabul Stadium
Join Drs Helen Lloyd and Susan Tyler-Free in this fascinating one hour webinar on mammalian meat allergy.
The session is facilitated by Dr Louise Imlay-Gillespie, co-chair of the Northern Rivers Medical Network.
MMA is an unusual disease secondary to tick bites and can result in delayed anaphylaxis. The condition is endemic to the North Coast.
Recorded 10 March 2021
Resources 
Details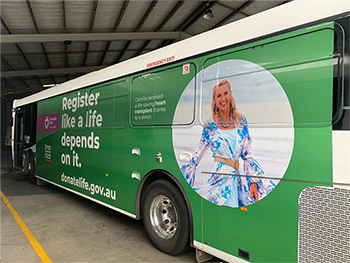 Public buses in the Northern Rivers including nine in Lismore, are part of the campaign to boost our falling organ and tissue donation rate, currently standing at only 1-in-3 people Australia wide. Some 1800 patients are awaiting a life-saving donation. 
Australia has recorded a 16 per cent decrease in the number of new donor registrations since 2019, partly due to the COVID-19 related cancellation of awareness-raising events across the country. 
Northern NSW Local Health District nurse Camilla Jenal is excited to be the face of this year's campaign, after receiving a live-saving heart transplant in 2012. After becoming so unwell with heart failure due to an autoimmune disease, Camilla required the assistance of a mechanical pump to keep her heart working.
Details

Written by

Robin Osborne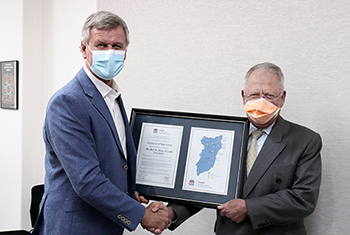 Incoming Board chair Mark Humphries with Dr Brian Pezzutti at the latter's final Board meeting in June 2021.
After steering the Board of the Northern NSW Local Health District for the past eight years, Dr Brian Pezzutti has handed the reins to the current Deputy Chair, Mark Humphries, who has been a Board member since 2012.
 Mr Humphries has extensive experience in senior management and leadership positions, and is actively involved in the regional community. He is a past president of the Kingscliff Chamber of Commerce and is involved with Surf Life Saving clubs in the area. He is also a member of the regional advisory committees for the Westpac Lifesaver Rescue Helicopter and TAFE NSW.
 Mr Humphries will serve until December 2022.
Details