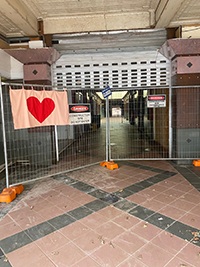 Nine weeks after the catastrophic February flooding of Lismore and the second flood a month later Lismore Regional Gallery Director Ashleigh Ralph describes the last few months as a roller coaster.
These terrible events happened when Ashleigh was just eight months into the job.
Four days after the flood, Gallery staff were able to enter the building and survey the damage. The entire two-storey building was inundated by a tsunami of river water and debris. It was a very emotional time for team members who'd worked at the Gallery for many years.
'The whole Gallery was flooded, including the exhibitions, the permanent collection, the Hannah Cabinet, everything. We had a flood mitigation plan, but this flood went above and beyond what anyone could have anticipated or planned for,' Ashleigh said.
Details

Written by

Janet Grist
Read more: After the floods… some good news about gallery's artworks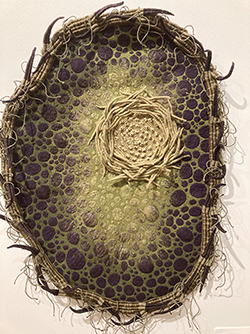 Merino wool, yarn, beads, embroidery thread, wet felting, knotting, natural dyeing, free machine embroidery. Exhibited in Connection Point: Contemporary established fibre textile artists of ACT and NSW, Canberra Museum+Gallery.
It is no coincidence that Helen MacRitchie's extraordinary creation closely resembles a human cell, although which one would be difficult to gauge. Her artist's statement gives the game away: 'Merino wool roving and yarn have been dyed green naturally with elder leaves and felted to depict a human cell. Boundary defences are wrapped and barbed to protect cellular contents and a nuclear nest.'
The artist goes on to explain that 'The medieval Doctrine of Signatures [c 16th century, claiming that herbs resembling various parts of the body can be used by herbalists to treat ailments of those body parts] believed that the Elder tree treated many ailments because its fruit resembled the affected body parts.
'This strange reasoning aside, pulmonary and cardiovascular systems do benefit from the antioxidants in elderberries helping to maintain our immune system.'
The assemblage, certainly of value to the viewer's eye, was part of an accomplished group of works in the recent exhibition, Connection Point - Contemporary established fibre textile artists of ACT and NSW, in the national capital's downtown Canberra Museum+Gallery.
The show highlighted fibre textile art, ranging from wall hangings to clothing, chosen from CMAG's own collection, alongside works from ACT and NSW textile artists. Twenty artists from each territory/state were represented.
Details

Written by

Robin Osborne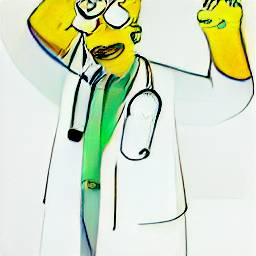 "The Labor Party does things and the Liberals clean up the mess. Repeat."
This pithy description of Australian politics since World War 2 has arguably stood the test of time. Under the last Coalition government which came to power in 2013 there was a gradual reduction in the national deficit that had arisen from the 2008 global financial crisis. In 2019 Treasurer Josh Frydenberg proudly announced we were "back in the black". The coffee mugs bearing that slogan have rocketed in value, unlike the Aussie dollar.
Then the COVID-19 pandemic hit, with major restrictions on individuals' movements and on commerce. Once again the Treasury coffers were opened to avoid widespread business failures, unemployment and major recession - the 'R' word  that so far is barely spoken. 
Now the pandemic is coming to an end and the economy is bouncing back, as is inflation. It was low throughout the Coalition years at less than 2.3% but the Medicare rebate increase rarely reached half this level. 
Details

Written by

David Guest

Gun Control
Someone should tell self-important anti-gun doctors to stay in their lane. Half of the articles in Annals of Internal Medicine are pushing for gun control. Most upsetting, however, the medical community seems to have consulted NO ONE but themselves."
National Rifle Association tweet of 8 November 2018 
This tweet by the NRA from almost four years ago riled many American doctors involved in trauma care. It was made in response to the  American College of Physicians policy statement, Reducing Firearm Injuries and Deaths in the United States which deemed gun violence a "public health crisis" that "requires the nation's immediate attention."
It gave rise to the hashtag #ThisIsOurLane which sought amongst other things to end the 1996 Dicky amendment prohibiting the Centers for Disease Control and Prevention (CDC) from funding research into gun control. Similar research on automotive deaths and cigarette consumption had previously led to changes in public opinion, the law and ultimately reduced premature deaths. 
The Australian gun law reform that resulted from the Port Arthur Massacre of 1996 is frequently cited as a successful demonstration of what can be achieved. It has contributed to the three fold decline in gun deaths from the early nineties.
Details

Written by

David Guest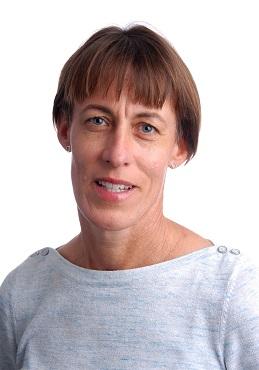 A survey of Northern Rivers residents conducted by five fourth-year medical students from the University of Western Sydney has highlighted the value of creating art and accessing arts activities to promote mental wellbeing.
The benefits of arts activities for health and wellbeing are well documented. The aim of this local study was to gauge the effect of COVID-19 lockdowns, and the subsequent loss of access to arts activities on mental health and wellbeing.
The research topic was developed by University Centre for Rural Health (Lismore) Research Lead Dr Natalie Edmiston, with the assistance of Dr Andrew Binns and Dr Tien Khoo. Students Ruban Sivakumar, Rory Sinclair, Jeyvin Nandakumaran, Tushar Vashisht and Sanju Sonnadara created the online survey especially for people living in Northern NSW.
Details

Written by

Janet Grist
Read more: Local Survey highlights the importance of the arts during flood recovery