Come and join your colleagues for the NorDocs webinar on Breast cancer management and the Multidisciplinary team. (Link to slides).
Speakers are Dr Julan Amalaseelan (Radiation Oncologist), Dr Rob Simon (General Surgeon) and Dr Amy Scott (Medical Oncologist).
Our facilitators are Dr Nina Robertson (GP) and Dr David Guest (GP).
Three cases of breast cancer will be discussed with best practice approaches to the management of each one.
Key Learning Points
how to optimise investigation and workup of the suspected breast cancer patient 
the complexities of breast cancer management with multimodal treatments.
the changing management of the axilla and the aims of axillary staging.
the limitations of hormone therapy due to hormone deprivation symptoms
the timing and appropriateness of breast reconstruction in certain situations which is highly individualised and dependent on other therapies.
the common side effects of chest wall/breast radiotherapy
the management of acute radiation skin reactions 
Details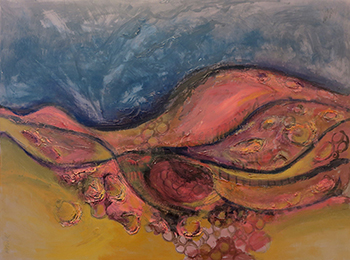 UNCONDITIONAL STORIES - exhibition at Northern Rivers Community Gallery
Ballina District Hospital + TAFE NSW Lismore Art Program 
12 August - 18 October 2020
Robin Osborne reviews a narrative art project where healthcare patients met TAFE students to go on a personal journey through sickness, healing and self-discovery.
The dramatic image is surely an aerial view of landscape, perhaps an Aboriginal work characterised by the 'helicopter' view commonly seen in Central Desert paintings. The low hills, tinged red-pink by early morning or afternoon sun, are fringed by a body of dark water, the thick swirls of blue and red paint applied dramatically.
Yet the painting's title, The Silk Road, bears no relationship to Australia… or so it seems.
Rather than looking externally for inspiration the artist, TAFE student Mark Alcock, gazed inside the body for inspiration, portraying the devastating impact of an auto-immune disease named Behçet's Disease on a local man who had battled this condition for years.
Details

Written by

Robin Osborne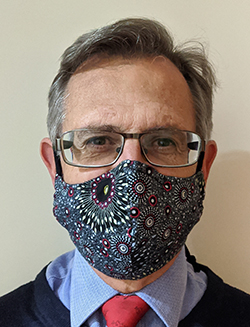 After the initial wave and restrictions, life for many North Coast residents returned to some degree of normality. Others lost their jobs, possibly forever, although the full economic impact of this was mitigated to some extent by the Federal government's emergency financial packages. As time passed and the numbers decreased, restrictions eased and retail and restaurants gradually reopened for business. There seemed to be light at the end of the tunnel. 
Some businesses boomed through the crisis. It was a great time to be in the home renovation, surgical supply or cleaning businesses, with orders coming in thick and fast. 
Then the second wave hit Victoria. While not totally unexpected it was literally a shock to the system. We became used to seeing Premier Dan Andrews trudge out in front of the TV cameras for the daily briefing to disclose the latest number of cases and deaths. The relentless rise weighed heavily on everybody's mind and for some it brought back memories of the nightly television reports from the late 60s and 70s of the daily body count during the Vietnam war. 
The infection spread like the bush fires of summer 2019. There were spot fires in a few suburbs, then a city and finally a state was in full lockdown. There was fear of contagion to other parts of the country and the walls went up on the State borders. 
Details

Written by

David Guest
Read more: Editorial: COVID-19 continues to dominate our lives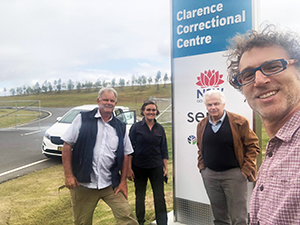 Handover of medical care in the North Coast's mega-prison
Dr Andrew Binns visits Australia's newest, biggest and potentially most controversial prison.
The City of Grafton is a place of mixed blessings. Famed for its annual Jacaranda Festival, when street trees burst into purple blossom, it is also the place where a stone-walled jail, opened in 1862, drew criticism over the years for the cruelty of its warders.
Now the area is becoming famous for the establishment, at a nearby location, of Australia's newest and biggest prison, the Clarence Correctional Centre (CCC), a 1700-prisoner facility that state MP Chris Gulaptis (Nats, Clarence) hails as having "world class facilities" and offering a "responsible prisoner model" offering job search prospects upon release
Gone are the days when arrivals at Grafton jail were forced to run the gauntlet of baton wielding warders positioned to show new prisoners who was boss. The ritual was known as the "reception biff" and drew condemnation from the Nagle Royal Commission into NSW prisons.
Details

Written by

Andrew Binns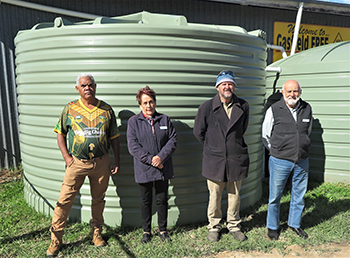 The message came to Greg Dollin in a dream: "I was wondering what practical help we might offer those unfortunate people whose homes had been destroyed in the bushfires, and then it came to me… call it a message from God… we could build sheds where they live with their families while assessing the damage and beginning to rebuild their lives."

It was January 2020, and the fires that had swept through farms and bushland to the west of Casino were finally being brought under control. Rappville was one community badly affected, with homes lost and the Tarmac sawmill, run by the biggest local employer, burnt to the ground.
Property owners on remote holdings around Tabulam, where Greg is based, were among those affected, with buildings gone and vital infrastructure such as solar equipment, water tanks and pumps destroyed.
Details