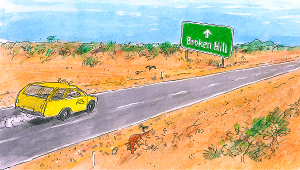 When told he doesn't have long to live, Rex, the loner taxi-driver in the recent film Last Cab to Darwin, embarks on an epic drive through the outback from Broken Hill to die on his own terms in the jurisdiction where euthanasia is soon to become legal.
However, his journey reveals to him that before you can end your life, you have to live it, and to live it, you've got to share it.
After seeing this thoughtful film I attended a Q&A with legendary Australian actor Michael Caton who played the role of Rex. One of the questions asked was "is this a movie about euthanasia?" His reply was "no, it's about a journey and transcendence".
A strong theme in the film is the way a person can change at any stage of their life's journey even when they come to accept that their life is terminal (and isn't life a terminal condition?). Rex's self-transcendence from not wanting to be a burden on others as he left on his journey to ultimately abandoning that idea and returning to a new life of re-uniting with his lover, friends and community.
Details

Written by

Andrew Binns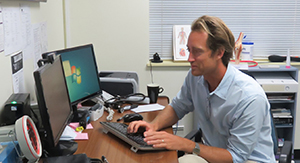 Dr Jane Barker explains the value of local GP placements for advanced-level medical students
When I first heard of the long-term student placements in general practice I wondered if and how they fitted into medical training. Longitudinal integrated clerkships, LICs for short, have now been proven to be effective learning environments for later-stage medical training.
The University Centre for Rural Health/North Coast (UCRH) has hosted students from Wollongong for the past 7 1/2 years, more than 150 students in all. Each of them has been allocated to a general practice in our area for two days a week for 38 weeks. In this four-year postgraduate program, this is effectively an eighth of their medical training.
For me the exciting part is that LICs claim what we have all known: that general practice can be a fertile learning environment, not only to teach Community Medicine but Medicine in general, that large teaching hospitals are not essential for all medical training and that there are aspects of medicine which are best learned in a general practice environment.
Details

Written by

Jane Barker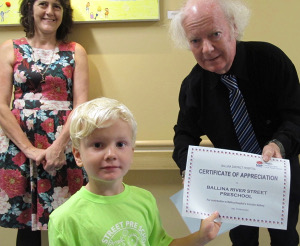 Simply put, the artworks that now line the corridor of the rehabilitation and transitional care unit at Ballina District Hospital "give patients a good reason to get out of bed and take walks."
The words came from well-known local GP, Sue Page, who was representing the Board of the Northern NSW Local Health District at the opening of the latest stage of exhibited works done by all nine pre-schools and kindergartens in the Shire.
Stages 1 and 2 feature works by Ballina's primary and high schools, public and private, and have a similar focus on environmental features of the area - the sea, bird and wildlife, agriculture, the hills, and the built landscape, including the Big Prawn.
Details

Written by

Robin Osborne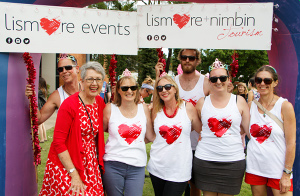 Once confined to the homophobic closet, the gathering of like-minded souls and sexualities known as the Tropical Fruits is now being hailed as one of the Northern Rivers' major festivals, and a major earner for local businesses at a usually quiet time for host city Lismore.
The now-annual Tropical Fruits festival, which peaks with a glitzy all-night party on New Year's eve, is not only out in the open but being welcomed by Lismore City Council, and much of the local citizenry.
It has even begun to put Lismore on the national and international lesbian/gay/bisexual/transgender/intersex map, attracting an estimated 5,000 participants, half of them from elsewhere. The financial trickle-down to the local economy from the 2015-16 events was put at around $5 million.
The highlights were a colorful street parade through Lismore, with Mayor Jenny Dowell perched in one of the classic cars, an opening event at the NORPA-managed City Hall, and sold-out performances by Scottish actor-raconteur-gay activist Alan Cumming. 
Details

Written by

Robin Osborne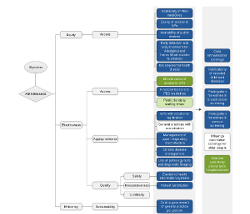 Although the national bulk-billing rate for GP attendances now stands at 84.6%, around 5 per cent of Australians say that financial pressures meant postponing or delaying seeking care. Moreover, 7.6 per cent of respondents delayed or did not purchase prescribed medicines due to cost.
Around 64 per cent of those who did visit one of the nation's 33,275 GPs reported waiting less than four hours for urgent care, while 11.1 per cent waited up to 24 hours, and 25 per cent waited longer.
Overall, 20.8 per cent of people who saw a GP for any reason waited longer than they felt was acceptable to get an appointment.
Details

Written by

Robin Osborne