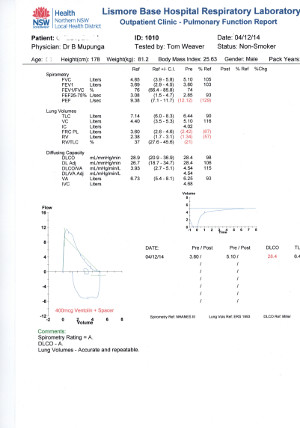 Lismore Base Hospital now has a fully functioning respiratory lab. It is currently manned by This email address is being protected from spambots. You need JavaScript enabled to view it. under the supervision of Dr Bliegh Mupunga. 
The lab is open three days per week and offers complex lung function testing, simple pre and post bronchodilator spirometry, bronchial provocation tests (usually mannitol), a formal 6 minute walk test (with or without oxygen) and high altitude stimulation testing. 
Details

Written by

David Guest
Read more: Lismore Base Respiratory Laboratory Lung Function Testing
Treasurer Joe Hockey and his band of Treasury officials have emerged from their crystal ball gazing to predict the shape of Australia circa 2055. The results, like much futurology, are a mix of data analysis, inspired guesswork and optimism.
Or if you prefer, the bleeding obvious (we will live much longer), the concerning (fewer people of traditional working age), and the how-could-you-possibly-know? (economic predictions tend to assume a consistency that changes in governments or global circumstances cannot guarantee).
One critic of the economic projections said the only sure thing about the economy in 40 years' time is that there will be an economy.
The 2015 Intergenerational Report (IGR) does, however, contain a caveat – "Long-term economic projections present one possible outcome based on a set of well-informed projections and assumptions about future changes in Australia's population, workforce participation and productivity."
Details

Written by

Robin Osborne
Read more: Intergenerational Report is a cloudy crystal ball
Free professional development for health professionals  

North Coast Medicare Local (NCML) is pleased to announce that local health professionals now have free access to online professional development through the TAFE Digital website.
As a result of a partnership with the North Coast Allied Health Association, NCML offers short courses which take about an hour to complete and are worth one CPD (Continuing Professional Development) point per hour.  With NCML's enrolment key, users will have free and unlimited access to:

1.        Allied Health course topics for allied health professionals
2.        Healnet course topics for nurses and other similar medical professionals and
3.        Generic short course topics for small businesses and self interest


Details

Written by

Casey, Guthrie, NCML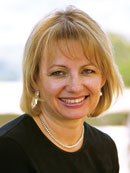 Whether it's called a GP co-payment, a value or price signal, or something else, one thing is sure about the $5.00 that was to be added to every consultation fee: the proposal is, to use one of the Prime Minster's better-known phrases, dead, buried and cremated.
Not that words as definitive were used by Health Minister Sussan Ley, who, at the end of her media release on the topic (3/3/15), said, "It is clear the proposal for an optional $5 co-payment does not have broad support. The measure, including the proposed $5 reduction to the Medicare rebate, will therefore no longer proceed and has been taken off the table."
The search continues to find another way to reduce the medical aspect of budgetary debt, this time one that has support from medical professionals, the public and enough Senators to pass into law.
Details

Written by

Robin Osborne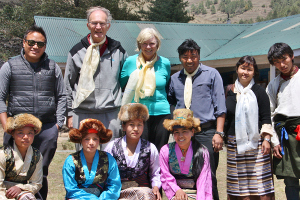 John and Helen Niven recount the incredible story of taking dental care to the remote villagers of Nepal.
Our dental volunteer trips to Nepal were initiated by my meeting Ang Tshering Sherpa in May 2011 whilst on a trip through Tibet with World Expeditions. He was the chairman of the committee that ran the Kushudebu Public Health Mission Nepal at Junbesi, a remote village on the original route to Mount Everest.
While the clinic was able to cover many medical problems the nearest dental service was five hours walk away. After many conversations and emails with Ang I decided to come to KPHMN and attempt to set up a basic dental facility.
In April 2012 Helen and I arrived in Kathmandu with many kilograms of portable dental equipment and supplies. We were met by Ang's brother Ang Nigma who was our guide for our visit to Nepal. A visit to a local dental supply house to collect further supplies, followed by an interview with the Nepal Medical Board to obtain my dental registration, saw us ready to set out to Junbesi.
I had managed to put together a simple transportable dental surgery, consisting of a portable dental unit, a suction unit I found in Kathmandu, and a suitable quantity of instruments and supplies provided by generous dentists and dental supply houses in Australia.
Details

Written by

John Niven