NORPA production at the Eltham Pub, September 2022
Thank you NORPA for presenting the Lismore district with a theatrical allegory of our story of the last three  years. The well orchestrated.concept of the production began with the audience enjoying a pub meal, followed by a staged theatre production. Groups of friends had gathered around tables at the Eltham Pub, catching up over a meal and a drink or two. Almost seamlessly, performers occupied their own tables and began performing their stories. The hotel itself was the stage upon which stories of love for one night were told. The stories moved between the different sets which were the bar, beer garden and the accomodation rooms on the top floor, as lost love was rekindled and new love found.
It was an inspired concept and worked a treat. At times you were not sure whether you were watching a cast member or just a random punter going for a beer.
The "love stories'' were a mixture of love in all its forms. They ranged from old lovers once spurned, meeting and finding love again, to the unconditional love a parent has for a child which knows no chronological end point. The mother's voice enquiring of her adult son "so they've let you out of rehab for a day trip to Byron'' was said more with hope than ignorance of the inevitable response.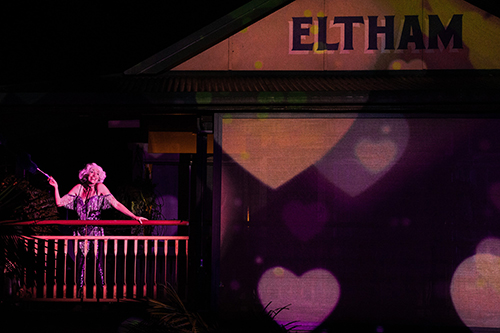 The talented cast portrayed a variety of characters, segueing from one 'love story' to the next. The choreography was exceptional and the comedic sequence for what was presumed to be the mating dance of the miniature peacock jumping spider was inspired. The dancing had to be good for the loser is to be eaten!
Likewise the image of the mother who absconded from hospital (with drip stand) in the band's van to spend a night at the pub will not be easily forgotten. Love found a way there too.
The full spectrum of life's trials and tribulations was encapsulated in the stories which touched on various emotions of happiness, sadness, fear, surprise, and delirium whilst at times also being quite poignant.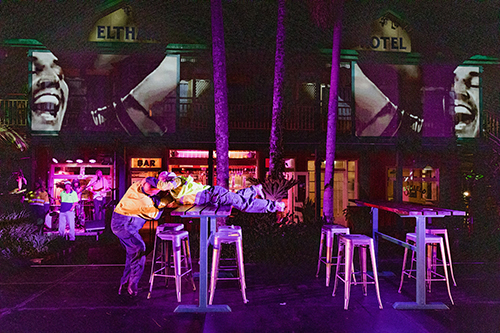 The resilient Lismore love heart flag served both as a symbol of the theme of the production and a subtle reminder of how the community had come together to overcome adversity and still discover love could rise to the surface.
We laughed, we cried, but above all we were grateful to be entertained. A thoroughly enjoyable experience and a credit to the cast and crew of our community.
Love For One Night was performed at the Eltham Hotel from 8-24 Sept 2022. It was devised through a collaborative creative process that included director Julian Louis, writer Janis Balodis and performers Lloyd Allison-Young, Claire Atkins, Phil Blackman, Zoe Gameau and Katia Molino. Full details at Blanket Street Press

Photo credit: Kate Holmes