Andrew Frederick Binns was born and raised in Adelaide. He is the youngest of four children to  Margaret Dickson and psychiatrist Dr Raymond Binns.
He attended Prince Alfred College, a boy's school in Adelaide. Even as a teenager, he was a mover and shaker, and argued for ballet to be introduced as a school sport. In this he was successful and his sister staged the choreography. The star of the show John Tilbrook went on to prominence in that other "aerial ballet", first with Sturt in the SANFL before transferring to the Daemons in the VFL in 1971.
Andrew received a BSc at the University of Adelaide before completing his medical degree at the University of NSW. His early post graduate years were spent at Royal Adelaide hospital and Adelaide Children's Hospital. In 1976 together with his new wife, Jeni, he took the dangerous but fascinating overland  route to the UK via Nepal, Afghanistan and the Middle East. It was a cultural experience in both a social and gastroenterological sense.
In England he was a senior house officer in anaesthetics and obstetrics at Upton Hospital, Slough and City Hospital, Nottingham obtaining his diploma in both these fields. He returned to Australia in 1979 settling on the Northern Rivers.
Unlike today, starting in general practice in country towns was difficult in the late 70s. Andrew squatted in the newly formed suburb of Goonellabah on the outskirts of Lismore. With no money, a wife and young son, Dougal, getting a loan from the local bank seemed near impossible. This changed quickly, however, when he responded positively to the question of whether he knew anyone here and he mentioned Frank Wagner, a stalwart of the North Coast medical community for many years. To this day Andrew is grateful to Frank for this unwitting underwriting of his start in practice.
It is hard to summarise the contributions Andrew has made to the North Coast over the last 40 years. The briefest attempt would be to say that if something needed doing he would do it or help get it organised.
Along with Jenny Ulyatt and John Corcoran, he was instrumental in setting up the Summerland Early Intervention program for disabled children and was its inaugural chair in 1986.
In the 1990s he became the first director of the Palliative Care Unit at St Vincent's Hospital, Lismore, when asked by Sister Jenny McFarlane. The service was mentored by Professor Narelle Lickiss, Palliative Care Specialist from The Royal Prince Alfred Hospital In Sydney. In 1997 he handed over the leadership of the unit to palliative care unit, Dr Joanne Doran. The unit under her leadership became a model for end-of-life care for rural Australia.
In 1991 Andrew was an investor in and Board member of the Northern Rivers Echo, an independent newspaper based in Lismore. The Echo gave voice to the local community and strongly promoted the Northern Rivers region until it was sold to Australian Provincial Newspapers in December, 2008.
The Northern Rivers Division of General Practice, a predecessor to NorDocs, formed in 1993. Dr Hilton Koppe was the inaugural chairman and Andrew became the editor of GPSpeak, the organisation's official newsletter. Over the years the magazine grew in size and sophistication under editor Katherine Breen-Kurucsev and after her death this role was taken on by actor and journalist, Aaron Bertram, who gave the magazine its professional look.
Following the introduction of the Labor government's Medicare Locals in the early 2010s  Andrew continued his efforts in publishing with Janet Grist in that organisation's official journal, HealthSpeak. The magazine was published from 2012 to 2019 when it was closed by the successor to the North Coast Medicare Local, the North Coast Primary Health Network.
Andrew was active in Rotary in the 80s and 90s and was president of the Goonellabah Rotary Club in 1984. Following this Andrew became active in several organisations outside of the medical sphere.
NORPA, Northern Rivers Performing Arts Inc, has showcased the talents of our local community from its early days in the 1990s to the present (See review on page ppp). In 1995 The Cars that Ate Paris under the direction of Lyndon Terracini, now Opera Australia's artistic  director, was a tour de force. As Andrew noted in an interview in 2010, "Opening the doors to local performers is what NORPA is about. You have to marvel at the amount of talent we have in our region and what it does for their wellbeing, having the chance to participate." Andrew was a Board member of NORPA for many years and its chair from 2017 to 2020.
In the arts Andrew was chairman of the Gasworks Arts Centre in Lismore  from1988 to 1992. The centre was the predecessor to NORPA based at Lismore City Hall. Despite the physical work of Drs Binns, Laird and Steele contamination issues from its time as a functioning facility meant the site was unsuitable for an arts centre.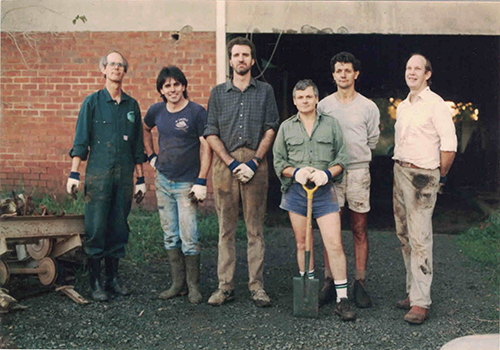 In addressing population health issues Andrew teamed up with Professor Garry Egger in the 1980s to promote the men's weight loss program, Gutbusters. The program was subsequently sold to Weight Watchers and followed by a similar program under Egger's guidance, Professor Trim.
Andrew is co-author with Egger in the 2001 of the Experts Weight Loss Guide and with Egger and Professor Stephan Rössner, Lifestyle Medicine in 2008. In 2015 Andrew became the inaugural patron of Australian Society of Lifestyle Medicine that aims to "improve prevention, management, and treatment of chronic, complex, and lifestyle-related conditions; 'Lifestyle-related' includes environmental, societal, behavioural and other factors."
Andrew has spent his life working towards a better and fairer society. On the 12th May 1979 Namatjira Haven in Alstonville opened. Local Aboriginal elders, Frank and Fletcher Roberts had worked for years to establish a centre to help the devastating impact alcohol was having on Aboriginal communities. Andrew became the first medical officer for Namatjira Haven in that same year.
Andrew has subsequently gone on to become a medical officer at Gurgun Bulahnggelah Aboriginal Health – now known as Jullums - the Lismore Aboriginal Medical Service. When the service's viability was threatened in 2012 he successfully re-established its financial footing with the help of Chris Crawford, then CEO of the North Coast Area Health Service.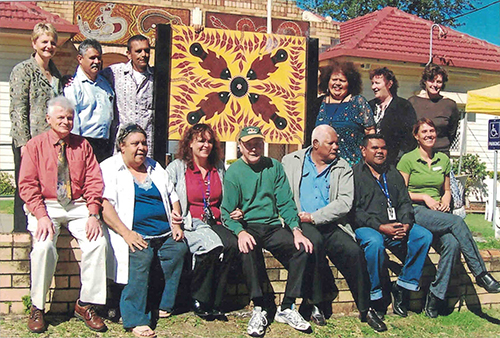 Andrew has also worked in custodial health. He has been the medical officer to Balund-a, a residential diversionary program for male offenders over 18 years of age located on the Clarence River near Tabulam. The program aims to reduce re-offending by enhancing skills in a supportive community environment.
The Aboriginal name, Bugilmah Burube Wullinje Balund-a roughly translates as "Be good now you have a second chance down by the river". Andrew has continued to advocate for proper medical and social care for the inmates there. A "tough on crime" approach may play well at the polls but may worsen the problem. On page 33 he argues strongly for a more rational approach for these inmates.
Andrew has helped train the next generation of doctors. He was an Adjunct Professor, Health and Applied Sciences at Southern Cross University, Clinical Senior Lecturer, Graduate School of Medicine, University of Wollongong and an accredited GP supervisor, first with North Coast GP Training and then GPSynergy. He has championed the "parallel consulting" model that will better prepare the next generation of doctors for clinical work.
Andrew started out in solo practice in 1979. Recognising the future of general practice was for larger practices, he, along with his partner, the late Dr Graham Ellis, enlisted the Dymock practice of sisters Drs Suzanne and Fiona Dymock and Dr Ruth Tinker, and myself, to amalgamate to form the Goonellabah Medical Centre (GMC). The Centre opened in March 1997 and has trained dozens of registrars and medical students over that time. Over 20 medical practitioners have made the GMC their "medical home" in those years.
The ethos of the medical centre is encompassed in the quadruple aim of the Institute for Healthcare Improvement. A "plain English" statement of the aims might be to "make the patient better, make the system better, don't break the bank and have fun". They are worthy goals and I personally thank Andrew for our attempts at the GMC to achieve them. 
Raconteur, entrepreneur and author Professor Scott Galloway has said "greatness is found in the agency of others". People from diverse backgrounds, with differing skills and life experiences but with a common goal can come together to achieve great things. Not everything works as planned or hoped but much does.
Andrew Binns, through his encouragement, support and constant effort, has allowed many to achieve their full potential. We thank him for enriching our lives and that of our community and wish him well in his retirement.
David Guest