This is a shout out from the University Centre for Rural Health (UCRH) to all the incredible general practices on the North Coast that have supported the placement of medical students over the years and have continued to do so where possible through pandemic and floods.
Having a well-trained and adequate medical workforce in the future is clearly vital and your contribution is remarkable.
We hope that the students have added positively to your work experience and provided assistance in some clinical areas. This is what is overwhelmingly reported back to us by the practices.
We know that your surgeries are probably approached by many universities and students and it is obviously your choice as to who you host.

A reminder that the UCRH is part of an agreement called NCMEC (North Coast Medical Education Collaboration), a joint venture between The University of Sydney, University of Wollongong and Western Sydney University, which aims to bring students to this region for long placements in both the community (mostly general practice) and the hospital system. We hope to give them a substantial and extended immersion into life and medicine on the North Coast. The aim being that they will love it so much that they will return as interns, registrars and beyond.
And we are having good success.
In order to meet our part of the agreement with the Federal Government, we need to place a certain number of students each year and so we would ask you to consider prioritising UCRH placements wherever you can. We have very experienced education support officers and program facilitators, as well as GP educators to help with placements, admin tasks, and to troubleshoot if need be. The UCRH places around 48 long stay students per year.
Remuneration for the supervision of students is available through Medicare, although arguably it is not what it should be. Medicare will provide $200 per session, with a maximum of two sessions per day. Please remember, the payment is supposed to go to the clinician looking after the student for that session, in order to compensate for seeing a couple of less patients if that is what occurs, and especially if they are paid as a percentage of their billings. Again, this is up to the practice, but it is the intention of the payment.
Many GPs welcome the opportunity to supervise students, as it provides an avenue to help train and shape our future doctors. Students can be utilized in the practices in various ways, as an extra set of hands, taking histories, assisting with procedures and vaccinations, just to name a few. The placement engagement through the UCRH has minimal administrative 'overheads' for the practice, and our placement coordinators work hard to ensure this is a streamlined process.
Our students almost unanimously report having a positive experience. They really enjoy being a part of a team and feeling useful. In particular they have pitched in without hesitation to assist at the respiratory clinics and flood evacuation centers. They learned that as well as everything else they contributed, listening to people's stories can be incredibly therapeutic for the patient, and most enlightening for the listener.
Some long standing and highly respected practices in Lismore, which have hosted students consistently, have been affected heavily by the recent floods. Our thoughts are with you and we wish you well on the road to recovery. Lismore Base Hospital has also been affected and we are incredibly grateful to all the staff who continue to give 100% and more. Do take time out for your own well-being if at all possible.
The impact has been devastating and UCRH has contributed a flood report to NSW Health and will continue to monitor the effects through research. As a community we are reaching out and pulling together and we can only hope that further much needed assistance from outside will be forthcoming.
Our Aboriginal Medical Services and Health Workers continue to provide a cultural experience with a medical flavour that deepens understanding of our Indigenous communities and their health needs.
Thank you for your ongoing generosity and wisdom.
Our academic teaching team currently consists of Dr Ann Tosomeen, Dr Natalie Lindsay, Dr Rosie Hamilton, Dr David Glendinning and myself, with occasional guest appearances from Jane Burgess, Jane Barker and others.
For the first time this year we are running Addiction of Medicine education days under the umbrella of our Mental Health curriculum and welcome the assistance of Anthony Solomon and Bronwyn Hudson – both GPs - and their considerable experience and expertise in this field.
However, we know that the real learning occurs at the coal face – we will hopefully find a different term for this in future. ('Solar panel' doesn't quite work – possibly 'wind farm'?) But for the moment, general practice and hospital wards remain the coal face.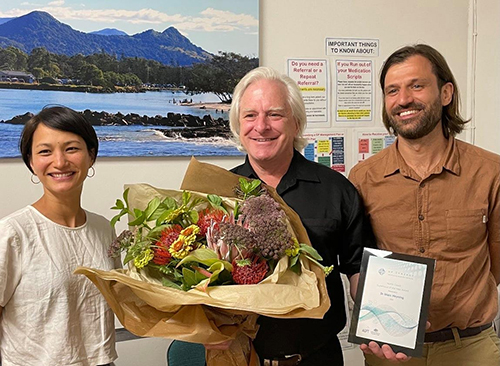 A special plaudit to Dr Marc Heyning who was awarded "Best supervision by a GP practice or Hospital Department" by the students this year. He is pictured here with two registrars who also nominated him for a teaching award. Marc is clearly a dedicated and much valued teacher.
In the future we are exploring with the Regional Training Hub at Lismore Base (where folk are working to develop local specialist training pathways), and the SIM center, (where learners can experience all the adrenaline rush and alarm of a real emergency, without putting any actual person at risk), how we can better support practices and supervisors that support our students. Offering state of the art training appears to be popular and we will continue to develop these possibilities.
We need to sincerely thank your practice managers (PMs) without whom these placements would not be possible. We do sometimes hear that an individual doctor would like to be involved in medical student training, but the practice as a whole feels the timing is not right. Please encourage discussion at the practice level.
We are willing to look at all possible scheduling rosters and variations in order to make it work for your practice. You have no idea how much you have to offer. We do, as do the students and they tell us. And again, let them contribute. They want to.
To those who have not yet been involved or who have taken a break, please contact us if you want to (re-) engage. We would love to hear from you. (See below for contact details.)
And speaking of PMs, no matter what your political persuasion, there does now exist an opportunity to lobby different folk and in a different way for the future of our profession.
Let's do it.
Let's work together.
Let's make it better for our community and for the ones following in our footsteps.
For more information and to register your interest please contact Dr Christine Ahern. M 0412 673 278 – please text first
Email This email address is being protected from spambots. You need JavaScript enabled to view it.
Dr Christine Ahern  is Academic Coordinator (GP & Community) at the University Centre for Rural Health (UCRH)