At the end of July 2022, 19 University of Wollongong (UOW) medical students were welcomed to the North Coast. Their long stay placements are occurring across the whole Northern Rivers footprint, from Murwillumbah to Lismore and down to Grafton, including many places in between.
GP and hospital preceptors have supported the various orientation programs across the UOW student hubs to ensure students are educated in NNSWLHD and GP processes and site specific compliance requirements.
Given the recent flooding events impacting all levels of community, across the whole region, a talk for the students at UCRH Lismore was hosted by psychologist Ben Schiller, "Understanding trauma and the impact of natural disasters on the community". The students will have direct contact with patients, communities, peers and clinicians during their 12-month stay and it is important these students have an understanding of the impact the 2022 natural disasters continue to have on the region.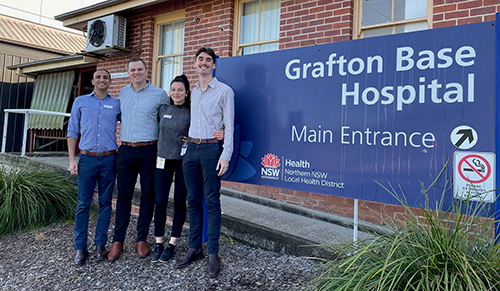 Thirteen of the Lismore and Grafton students also attended an Aboriginal Cultural Immersion Day led by UCRH lecturer Dr Marcelle Townsend Cross. Students were engaged in discussion on the impacts of colonialism on the Aboriginal and Torres Strait Islander people of Australia. Some of the discussion was focussed on providing students with a better understanding of past government history and its effects, discussing Stolen Generations, learning about different concepts and perspectives of health from a consumer and provider of care, racism and stereotyping, its effects and more. Students also went on to Country and discussed local history and landmarks. The afternoon ended with clay tile making; art which will adorn the edible bushtucker garden at the UCRH.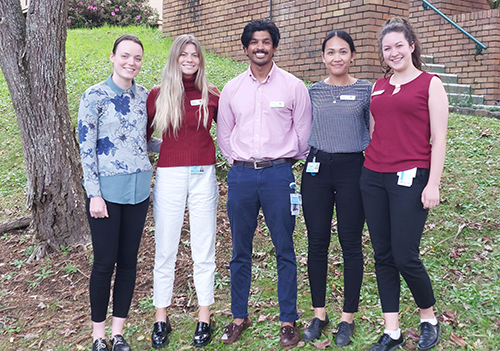 The Murwillumbah hub group of five enthusiastic students this year are ready to immerse themselves in their allocated general practices, the Murwillumbah District Hospital and the local community. During orientation week they covered practical workshops such as a gowning and gloving competency for surgery, cannulation and venepuncture, intravenous fluids, eMeds & eMR2 training, and infection control. The students also toured the hospital and had an in depth tour of the Emergency Department.
The Murwillumbah students enjoyed dinner and a big bonfire at the home of their Regional Academic Leader, Dr John Moran, and were able to finish their orientation week with a walk around the Tweed Regional Art Gallery and a coffee on the verandah while enjoying the beautiful landscape.
The UOW hubs comprehensive welcome and orientation programs are designed to enable the students to not only expand their medical knowledge and skills but also to develop support systems in their new work and home environments to ensure they all succeed.
*On the NSW North Coast, the UOW medical program operates in partnership with the University of Sydney and Western Sydney University as part of the North Coast Medical Education Collaboration.