Well-known local photographer Jacklyn Wagner moved around Lismore in the weeks following the devastating flooding of early 2022 to document the aftermath of what is now regarded as Australia's worst ever natural disaster.
Photographing people has always been Jacklyn's forte, and the images she recorded provide a lasting record of the flood's impact on residents of the city's low-lying areas. Some have returned to their homes, many have not.
The photographs have since been assembled in a book, Through the Heart … a flood of fears and tears, that was launched in NSW Parliament. The 'heart' became a popular symbol of the Lismore CBD, which had been badly impacted by an earlier flood, in 2017.
Jacklyn said, 'I would simply ask them - people who had lost everything or saved something; people who now needed to start reclaiming their homes and lives - if I may take a picture of them. No lights, no paraphernalia - just a picture,'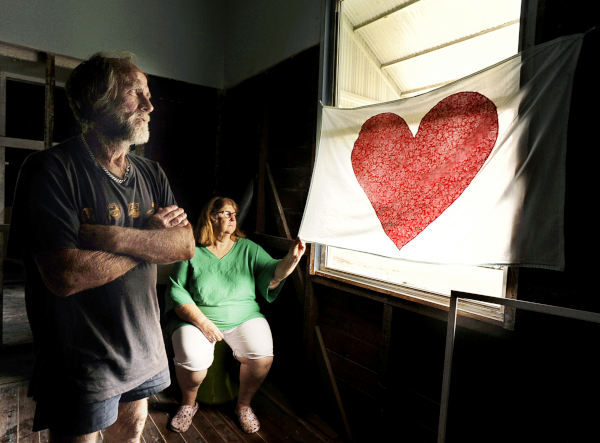 Our cover shows Jacklyn Wagner's portrait of Vicki and Mark Youngberry in their South Lismore home, now fully restored through their own labour, helped by family members and friends.
The Youngberrys were rescued by boat from the top level of their house and eventually taken to the safety of higher ground, via Lismore Base Hospital where Mark was treated for chest pains.
Photo: Jacklyn Wagner, from Through the Heart … a flood of fears and tears. The book will be reprinted and copies can be ordered at  www.throughtheheart.com.au  
Read the full story here.