The Docceroos are a group of medical practitioners who literally share a common goal – we are all passionate football enthusiasts. While each specialises in different practice fields and hails from various parts of Australia, our love for not just watching the "round ball game" but playing it, has taken us around the globe. 
Every year, we assemble a team to compete in the annual World Medical Football Championships (WMFC), held in a foreign country. Our journey began in 2003 when Dr. Alan Jones swiftly assembled a squad of 14 players in just six weeks to participate in Barcelona, at the prestigious Football Estadi venue and the training fields of F.C. Barcelona.
From these humble beginnings, our squad has steadily grown stronger, and we have consistently fielded a team each year since then. While we have performed admirably in most tournaments, the elusive winner's trophy has remained just out of reach. 
These championships offer a fantastic opportunity to engage in six thrilling football matches, explore new countries, and connect with doctors from all corners of the world, all within the backdrop of a medical conference. For those fortunate enough to partake, it is genuinely a trip of a lifetime.
In 2022, the Docceroos achieved one of our best results, reaching the semi-finals in Mar Del Plata, Argentina, only to be edged out by Catalonia. Unfortunately, we were unable to surpass these achievements this year during our 2023 campaign in Vienna, Austria. 
The tournament began with an opening ceremony, during which 24 participating nations were randomly drawn into six groups, each consisting of four teams. Australia found itself in a challenging group alongside Argentina, Spain, and Venezuela for the group stage matches. 
Our journey started with an intense match against Argentina, which ended in a disappointing 2-1 loss. Less than 24 hours later, we faced the football powerhouse Spain, and to our delight, the Docceroos secured a remarkable 1-0 victory. To advance to the finals, the Australian squad needed a win against the crafty opponents from Venezuela. 
After a frustrating game, we experienced a 3-1 loss but maintained our high spirits as we had three more matches ahead.
The Docceroos cruised past the underdog team from Puerto Rico with a convincing 3-0 victory, building momentum. We continued our impressive run by defeating Mexico 3-0 with a spectacular team performance. 
The week concluded with Australia facing off against Ukraine, a team that had come together at the last minute despite facing obvious challenges. The game ended in a nil-all  draw, leading to a penalty shootout to determine 13th place. Australia calmly converted all 5 penalties, clinching a 5-4 shootout victory.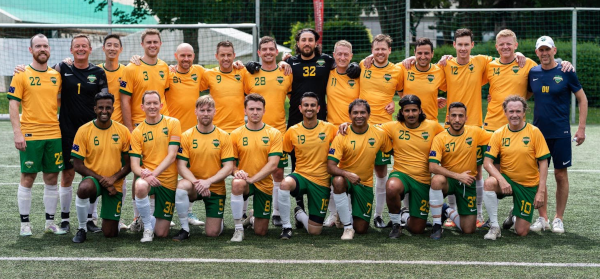 Reflecting on our week in Vienna, this was an extraordinary experience that I deeply appreciate. Representing Australia in an international football tournament was a tremendous honour, especially alongside such a remarkable group of teammates. 
This journey also provided a unique opportunity to immerse ourselves in Viennese culture, connect with doctors from all corners of the world, and create lasting memories. I take great pride in being a Docceroo and eagerly anticipate the chance to wear the Green & Gold jersey once more in the upcoming 2024 tournament.
Next year's WMFC will be hosted by Australia on the Sunshine Coast (21-27 July) and we are excited to announce it will include an inaugural women's tournament. For more information, please follow our Facebook page (Docceroos football team) or visit our website