by Dr Andrew Binns
One of my post-retirement activities is to address a project in a small, needy rural community near Lismore, namely the well-known village of Nimbin. This town recently celebrated the 50th Anniversary of the famous Aquarius Festival which was a revolutionary counterculture arts and music festival organised by the Australian Union of Students. 
This changed this town from a small farming community into a thriving and busy township, popular with tourists lapping up the hippy atmosphere of the past.
About 12 months ago the Rural Doctors Network funded a Registered Nurse and Aboriginal Health Worker to assess and address the health needs for Aboriginal residents in the Nimbin area. I joined the project as a volunteer having retired from clinical work. 
The percentage of Aboriginal people living there is 5.6%, greater than the state average of 3.4% according to 2021 ABS data. It is a rather transient community, and the recent regional flood disaster has made this more so. 
To assess the need, the conventional way of assessing is by doing a community survey. This was thought to be inappropriate for this targeted cohort of disadvantaged people. Instead our Rekindling the Spirit (RTS) team set up a table with basic food in the park, opposite the only pub in town, and talked to the passing parade about their health needs. 
We found people were happy to stop for a chat and word soon spread about our presence. The Nimbin Neighbourhood Centre was a good network for the project. The aim was to become known in the community and break down suspicions as to who we were. We soon developed a rapport and trust that built up over the months.
Our networks became stronger to the point of finding a suitable clinical place to set up a GP Clinic in the Nimbin Hospital precinct. This has been delayed due to GP workforce issues. Recently we also joined the so called Nimbin Collaborative, a broad group of health professionals coordinated by the NNSWLHD aiming to provide mental health services to the needy in the Nimbin community.
The Nimbin Collaborative inaugural meeting recently involved the NNSWLHD, The Buttery, Open Minds, Wellways, Momentum Collective, Mission Australia, GROW, Social Futures, and our group, RTS. More than 20 people attended. 
The meeting was chaired by NNSWLHD's Trent Taylor (Strategic Partnerships and Innovation Manager). It was good to see the cooperation amongst these groups to address the mental health needs of this community.
It is amazing to see how quickly relationships can build up in a small community that seems so connected. Everyone looks out for each other. However, the needs are significant and there seem to be a lot of disadvantaged people living there, including Aboriginal people. The Nimbin population, including transients, have all the social determinants of health issues to deal with, and the youth even more so.
RTS also has a youth group, and our networking has led to links with the local high school, the Nimbin Central School. We had the help of an Aboriginal Ngemba woman, Tahnee Arnold, who is a teacher in humanities and the creative and performing arts at this school. The RTS youth group participated in their annual Bundjalung Day on 14 September (see adjacent story).
We also hope to exhibit Aboriginal art created by Nimbin school students in our proposed GP health clinic in Nimbin. This will help connect with Indigenous families in the area.
---
By Tahnee Arnold 
On 14 September 14, Nimbin Central School celebrated its annual Bundjalung Day, beginning with a smoking ceremony and Welcome to Country led by Uncle Gilbert. Waangenga Blanco then guided the whole school through a movement session, followed by an Aboriginal deep listening exercise called Dadirri, which encouraged reflection and connection.     
Nimbin Central was graced by the presence of several guest artists who ran workshops throughout the day.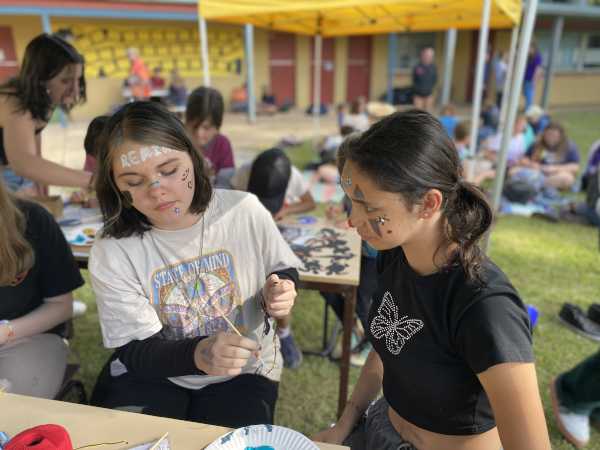 Karla Dickens shared her art-making practice, and discussed how creating art can help you find your voice. Megan Mittag explored the art of storytelling through text, demonstrating the power of narratives. Waangenga Blanco shared his dance expertise, allowing the students to experience the beauty and significance of Aboriginal dance forms. Uncle Jimmy shared invaluable wisdom and cultural knowledge in relation to totems and Rekindling the Spirit showed students how to create art by using natural materials resulting in a whole school Earth Mandalas.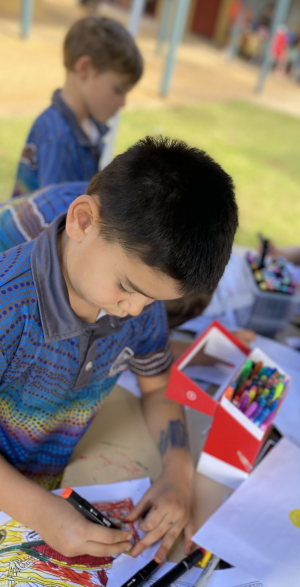 Rekindling the Spirit and Social Futures dedicated their time and energy to the day. As a school, we are very grateful and would like to express our appreciation for their assistance and contribution and look forward to continuing and strengthening our relationship with both organisations. 
Bundjalung Day celebrated the power of culture bringing people together. We eagerly anticipate the next gathering, where we can continue to honour and celebrate Aboriginal culture.