As 2023 draws to a close and the "great junior doctor shuffle" commences around Australia, it seemed fitting to check in with the Resident Medical Officers Association at some of the hospitals in the North Coast footprint.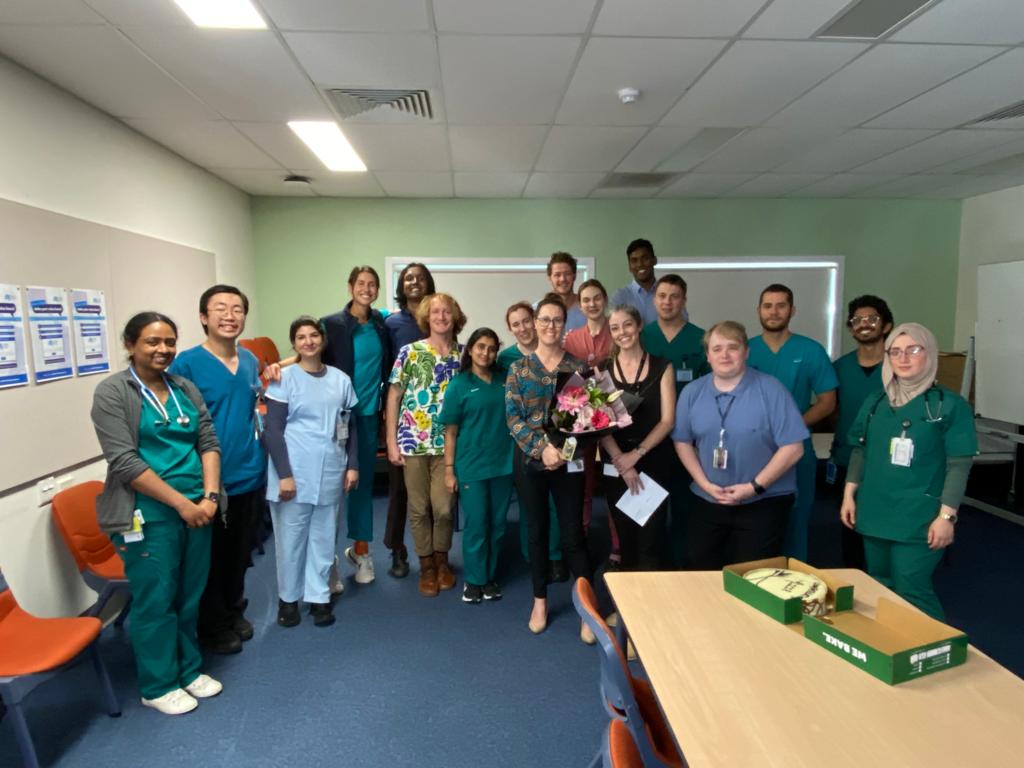 Coffs Harbour Health Campus - Dr. Julia Hamer JMO
As I'm sure many junior doctors would agree, the hospital you work in often becomes a second home, with long hours, late nights and early morning starts. Thankfully, Coffs Harbour Health Campus has been the type of home you love, one you feel safe in, included, and part of the family. 
As JMOs, it is a privilege to form close relationships with our consultants, receive continual mentorship, on-the-floor education, guidance, and support. While the locum medical registrars provide a great mix to teams, it is really the bond between JMO and consultant that provides the continuity of care and guides the patient's journey from start to finish. 
Our rotating Basic Physician Trainees (BPTs) from St George always bring stamina, knowledge, and excitement to the hospital. It is always a very sad day at the end of their three-month rotation to watch them leave. While new BPTs rotate through and get oriented, again that bond between JMO and consultant is a crucial link during transitions for continuity of patient care and safety. I think this provides an important opportunity for JMOs to step up in leadership roles, ensure they know their patients well and provide thorough handovers. 
Thankfully our surgical registrars stay with us for 12-months allowing the consults to evolve from "hey this is the JMO for team X" , often to "hey, it's me… again". The close-knit community provides a sense of ease and familiarity. It has a beautiful way of instilling confidence early on as we start to take tiny strides as junior doctors. 
Alongside life on the wards, our educational sessions have often been hands-on and engaging. While the free food incentivises us to attend teaching, we always leave with more than just full tummies. From biopsies to intubation, neonatal resuscitation to oncological emergencies, we've had a diverse range of topics to sit and listen to while chomping away on a healthy salad. 
All in all, the life of a JMO at Coffs Harbour Health Campus has been darn good. 
While the hospital itself has its downfalls, e.g. no cellphone service in many wards, a dark tiny JMO lounge and no library, our feedback is always listened to and acted upon. 
Spearheading this whole operation is our amazing JMO manager Alicia Butchers who recently was awarded the Judy Muller Award for the stellar impact she's had on the doctors and staff at CHHC. From building us a new JMO lounge (coming soon!), to increasing our staff numbers, baking us treats and personally checking in on every JMO multiple times throughout each term, she's had a profound impact on us all. 
We are lucky to have such a positive, inclusive, and hardworking culture established at our hospital. Although we will all inevitably drift to different cities and hospitals after completing the next phase of our training, Coffs will always be a second home and for many of us, the type of home many of us would love to come back to.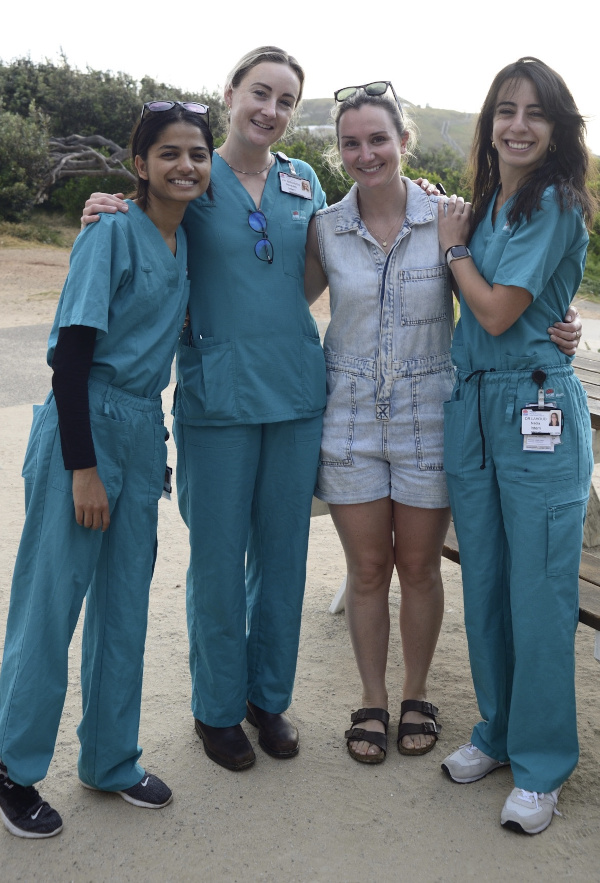 Port Macquarie – Dr Preshitashrikant Pande – RMOA President 
Greetings from Port Macquarie Base Hospital! We've had an eventful year, and we're here to spill the beans on the latest developments, 
Doctor-Friendly Changes
No more burning the midnight oil! Everyone has been working hard behind the scenes to make life easier for our JMOs. Over the year we've successfully reshuffled and introduced more general medical teams to achieve a better balance and JMO overtime is on the downtrend!
Kempsey District Hospital Gets a Boost
Thanks to ASMOF's intervention last year, Kempsey is on the up and up and now has on-site medical registrars during hours to support our JMOs. It's received a significant injection of support and resources, leading to improved patient care and relief for our hardworking staff.
Lingering Challenges
Despite the positive strides we've made, we're not without our fair share of challenges. The shortage of Resident Medical Officers (RMOs) continues to be a thorn in our side, especially after the intern exodus following their first year. This has placed additional pressure on our existing workforce. We're now working towards advocating for equity to promote fairness across city and regional hospitals to incentivise our residents to stay in Port Macquarie.
This year ASMOF, in collaboration with the JMO Accommodation Working Group, has successfully lobbied for expanded access to the secondment allowance for rural JMOs undergoing rotations in metropolitan facilities. This development is a game-changer, offering much-needed support to JMOs from rural areas who face unique challenges while on rotation. 
The Ministry of Health is not stopping there. They're actively exploring additional initiatives to support rural junior doctors, and that may include assistance with travel and accommodation. Now, here's the exciting part. The recent election of the NSW Labor Government means big changes are coming. The Labor Party has promised to do away with the NSW Public Sector Wages Policy, which had previously limited pay increases and other conditions to a 2.5 per cent wage cap.
Instead, the Labor Government plans to usher in a new era of bargaining, with the aim of securing better conditions, fair wages, increased productivity, and overall improvement in healthcare services. This is fantastic news for the rural medical community, as it removes constraints on unions and members, allowing them to negotiate for decent pay and working conditions.
ASMOF is not resting on its laurels. They are actively advocating for the updated secondment allowance to become a permanent fixture in a new Award and we at Port Macquarie are working in close collaboration to ensure our future interns have access to this change.

Lismore Base Hospital – Dr Oliver Bennett RMOA President 
2023 has seen a return to a new status quo at LBH, having experienced a tumultuous time in 2022 on the back of flood events, one which saw the 3 week old JMOs step up to meet the community's needs. 
Lismore is back at a full complement of interns for this clinical year, with a diverse group that includes returning former medical students from University of Wollongong, Western Sydney University and The University of Sydney, to further afield from Victoria and Malaysia. This is expected to continue into next year, when the 2024 cohort will expand to a total of 18 new faces!
The JMO increase is accompanied by a broadening of the location for clinical terms at Lismore, now including popular Kyogle rural generalist and Maclean and Grafton Emergency terms. This all provides an excellent exposure to the practice of medicine within the Northern Rivers, an expansion that is planned to continue with rotations to Ballina and Casino EDs in PGY-2, in the future.
We also saw an increase in the number of JMOs undertaking away rotations at our associated metropolitan hospital, The Prince of Wales. This was partly due to the policy change by NSW Health to provide equitable financial support. 
Historically rotating JMOs from metro sites have been given wage increases and subsidised accommodation to incentivise rural rotations. The 2023 year was the first where wage increases were extended to rural doctors moving to metro sites. Unfortunately, the cost of accommodation remains a challenge, with NSW Health not yet assisting with subsidising accommodation. Meaning the cost of living in Sydney remains a significant barrier for those JMOs wishing to gain early clinical experience at metro hospitals.
Finally, LBH celebrated the successful completion of its Advanced Life Support – Level Two course for our third successive cohort. This has been a junior doctor driven initiative to provide access to career important upskilling of clinical skills, something that can be challenging in rural sites. This successful introduction means that the majority of the PGY1-3s now have formal qualification in resuscitation skills, which has translated to an improved comfortability with the management of deteriorating patients. It is hoped in future that this program can gain sustainable funding to continue and potentially expand to include other sites in the NNSWLHD footprint.