Wal Bailey, turning 80 at the time this article was being prepared, is a platypus whisperer, managing to entice the notoriously shy creatures up from their watery hiding places to the surface.
There, they swim around in circles, putting on a display that seems designed to provide him with maximum opportunity to take wonderful photographs.
Armed with a high-end Nikon digital SLR and telephoto lenses, Wal is happy to oblige, and the results of his encounters over the years are testament to the relationships he has developed with a creature considered by the early colonials to be implausibly bizarre.
Seeing one platypus in the wild is unusual enough - Charles Darwin was the first Britisher to see one, near Bathurst, in 1836. Seeing two of them mating is astounding, as is the fact that the habitat of the animals in question is not a remote outback setting but the aptly named Platypus Park nature reserve in Lismore's crowded suburb of Goonellabah.
Wal Bailey, long retired from a building supplies business in Sydney, lives a few minutes walk from the reserve. Every morning for several years he has set off, camera gear packed securely in a wheeled trolley, to see what animals and birds might pose for him in this stunning, but unlikely place.
His array of images shows the diversity of the area, and the keenness of his eye: lizards, frogs, snakes, and many bird species, from tiny wrens and finches, to the silently engaging frogmouths, kookaburras, rosellas and cockatoos, water birds, and more.
So attuned is he to their environment and habits that he has photographed courting routines, nesting practices, and feeding habits. As much as Wal loves the natural world, he employs some decidedly modern practices to improve his chances of getting a perfect shot.
Along with the camera gear his kit includes an iPad mini with an app featuring a range of birdcalls and a Bluetooth speaker that he hangs in tree branches to attract birds known to be living nearby.
While something of a technology buff - he tinkered with short-wave radios in his early years, even miniaturising one to the size of a matchbox - he uses a computer only to process his photographs, preferring not to be distracted by email or the internet.
And why should he, as there's plenty to see and do in the bushland just down the road.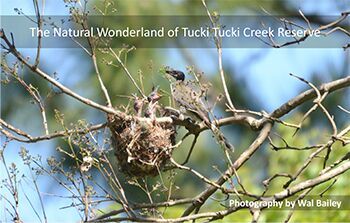 For more of Wal's great photos click the image above.