Epidemiology 
Skin cancer accounts for the largest number of cancers diagnosed in Australia each year, with more non melanoma skin cancer (NMSC) diagnosed each year than all cancers combined1. The common NMSCs include basal cell carcinoma (BCC) and squamous cell carcinoma (SCC), with 35% increase in age standardized  incidence of BCC and double the incidence of SCC from 1985 to 2002. Rarer NMSCs include but are not limited to Merkel cell carcinoma and dermatofibrosarcoma, with 900 new cases diagnosed in Australia in 2016, accounting for 0.7% of all cancers diagnosed. Australia also has the world's second highest incidence of  melanoma, with 35 new cases a year per 100,000 people, accounting for 10% of all cancers diagnosed1.  
Treatment Options for Skin Cancer 
The treatment options available for skin cancer includes topical therapies, surgery, radiation therapy, systemic therapy (including chemotherapy, immunotherapy and/or targeted therapy), either alone or in combination. The ultimate choice of treatment depends on the tumour type, tumour extent, patient fitness and patient  preference.
Radiotherapy for Skin Cancer  
For NMSCs, radiotherapy can be used as the sole definitive treatment modality, or in the adjuvant setting for tumours with high risk features to reduce the risk of local recurrence (see table below). Definitive radiotherapy may be considered for patients who are not a surgical candidate, present with an inoperable lesion, or where excision would produce loss of function or unacceptable cosmesis. Randomised data comparing different  treatment modalities are lacking, however large series data report local control rates with radiotherapy in the order of 90-95% and excellent or good cosmesis in >90% of patients3-7. Merkel cell carcinomas (MCCs) are  aggressive neuroendocrine tumours with high propensity for regional and distant metastases. MCCs are  exquisitely radiosensitive, with two meta-analyses confirming the benefit of adjuvant radiotherapy, which is  associated with significant improvement in locoregional control and overall survival compared to surgery alone. MCC may also be managed with definitive radiotherapy alone, with reported in-field control rate of  75%8. 
For melanoma, adjuvant radiotherapy may be considered for patients at high risk of local or regional  recurrence. Randomised evidence has shown the addition of adjuvant radiotherapy for tumours with high risk features is associated with a statistically significant reduction in locoregional relapse9. 
Indications for post-operative radiotherapy for NMSCs (adapted from eviQ)2
Absolute 
- T4 disease 
- Positive margins, where further surgery not feasible 
- Large nerve perineural spread  
- Recurrent disease 
Relative (consider when 2 or more present) 
- T2 or T3 
- Poorly differentiated 
- Close margins (<2mm) 
- ≥6mm depth of invasion 
- Lymphovascular invasion 
- Immunosuppression 
- Pathological perineural invasion (nerve diameter ≥0.1mm) 
- High risk tumour site (e.g. preauricular, ear, temple, non-hair bearing lip)

Management of Skin Cancer at North Coast Cancer Institute (NCCI) 
At NCCI, skin cancer is the 4th most common tumour type treated.  
The location, size, depth and overall volume of the tumour dictates which modality of radiotherapy is most  suitable. According to the clinical parameters, patients at NCCI may be treated using superficial radiation therapy (SXRT) or external beam radiotherapy (EBRT).  
SXRT is used to treat small tumours in eloquent and/or technically challenging locations such as lesions near the eye or nose. Majority of skin cancers are treated using EBRT, including superficial tumours that are not suited for SXRT and for tumours where larger and more complex volumes require treatment.  
Technological advances in radiotherapy mean that complex surfaces such as scalp or regional lymph nodes can be treated at NCCI using modern EBRT techniques such as intensity modulated radiation therapy (IMRT) or volumetric modulated arc therapy (VMAT). These techniques allow for a sophisticated delivery whereby the high doses of radiation can be delivered to clinical regions at risk whilst minimizing unnecessary side effects.  

Radiotherapy dose to healthy tissues

Radiotherapy referrals to NCCI are received either directly (via general practitioners, surgeons or  dermatologists), or more complex cases are discussed and referred through a multidisciplinary team meeting (MDT) pathway. Our local MDM is held fortnightly, and typically attended by surgeons, radiation oncologists, medical oncologists, pathologists and radiologists. We welcome the involvement of general practitioners at the meeting, which can attend either physically or virtually at Lismore Base Hospital.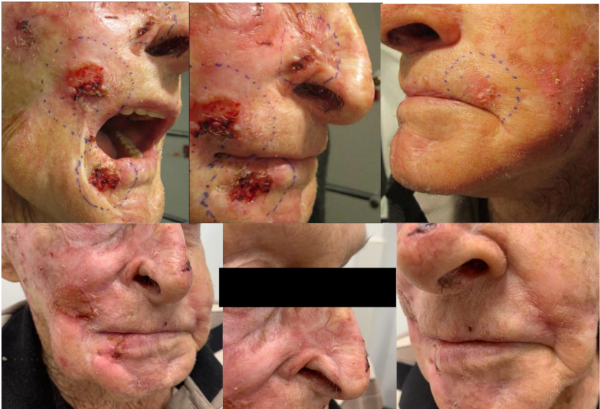 The figure above illustrates a series of clinical photographs of a patient with multiple NMSCs prior to  radiotherapy in the top row, followed by a series of clinical photographs following a course of definitive radiotherapy (using SXT), showing complete clinical response.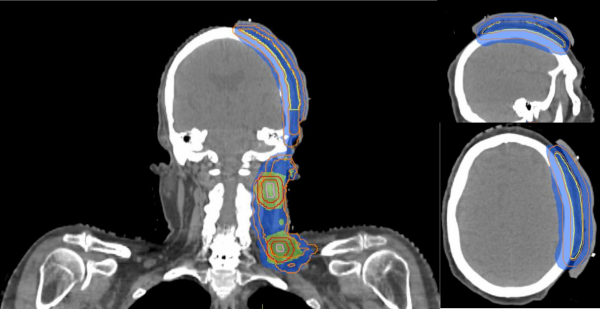 This figure illustrates a complex radiotherapy plan using VMAT technique for patient with high risk cutaneous SCC with pathological lymph nodes in the left neck. The blue and green highlighted areas represent the differential dose prescription to the overall volume, with a higher radiation dose prescribed to the pathological  macroscopic neck nodes. 
References 
About the author - Dr Shreya Armstrong 
Dr Shreya Armstrong has joined Drs Patrick Dwyer, Julan Amalaseelan and A/Prof Tom Shakespeare at the North Coast Cancer Institute.
Shreya completed her specialist training in Radiation Oncology in 2014, having undertaken the first two years of training in New South Wales at Newcastle Calvary Mater Hospital and Lismore Base Hospital, before going on to Royal Brisbane and Women's Hospital and Princess Alexandra Hospital. She subsequently undertook the Windeyer Fellowship at Mount Vernon Hospital in the United Kingdom specialising in brachytherapy for urological and gynaecological malignancies.
She has had several papers published and has presented at clinical research conferences both nationally and internationally.
Shreya has a special interest in cutaneous, central nervous system, gynaecological and urological malignancies, as well as palliative radiotherapy for all tumour sites.
She consults at the outpatient clinic at Lismore Base and at the soon to be established radiation outpatient clinic at Byron Central Hospital.
Shreya returned to the beautiful North Coast having been impressed by the area and its community when she first came as a registrar.
She can be contacted through the NCCI or at This email address is being protected from spambots. You need JavaScript enabled to view it. or mobile on 0428 128 436