Bundjalung artist Digby Moran with Lismore Flood, one of the highlights of his 'Growing up on the Island' exhibition at Lismore Regional Gallery.
One of the region's best known artists, Bundjalung man Digby Moran recently held a true blockbuster of an exhibition at Lismore Regional Gallery. The hangings featured a selection of mostly large works – many of them nearly two metres wide – inspired largely by his early life on Cabbage Tree Island in the Richmond River.
While many took their subjects from local creatures (Lorikeets, Mud Crabs, Mullet Hopping, Whiting Season) and events (Grass Fire, Cane Fire, Meeting Place) others were darker in nature, not surprisingly given the oppression of Aboriginal people in the area. For example Rivers of Blood, which Digby explained is "about the massacres and blood running down the river… I feel very sad about stuff that happened in the past… But I still feel I've gotta tell those stories."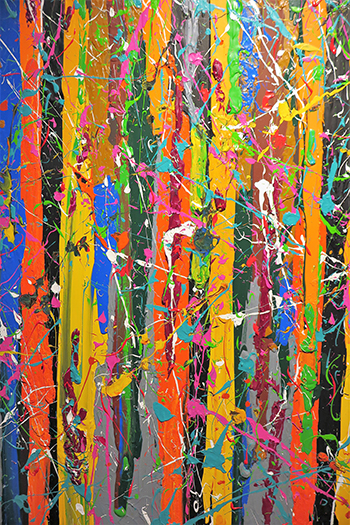 Others, such as the stunning work Happy Times  are of a cheerier nature, with the brilliant colours powering into the viewer's field of consciousness.
"Growing up on the island with all my family and cousins was a happy time," Digby recalls, "the best time of my life… We had a lot of freedom but there was always someone looking out for you. That's how they did it. Everyone looked out for one another."
Unfortunately many people had to struggle alone when the devastating flood hit an unprepared Lismore in March-April 2017. Like so many homes and businesses, Digby's studio, located in the basin, went under. His recent works, around a year's worth, were ruined and had to be thrown away.
Writes Lois Randall in the catalogue for the 'Growing up on the Island' show, "It's wonderful to see his resilience with this new body of work which, despite his loss, is largely imbued with happiness, shimmering with his extraordinary energy and spirit."
The work Lismore Flood was a flood affected but blank canvas that Digby painted on to capture the murkiness and intensity of the flood waters. It turned out to be one of the highlights of the exhibition, showing how adversity can be used as a catalyst for wonderful art.