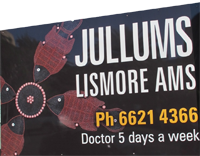 Lismore-based Jullums Aboriginal Medical Service celebrated an open day under its new name on 17 November with song, dance, moving speeches and an enjoyable lunch for all community members who attended.
The Jullums name is a detail of  the painting 'Four Jullums' which features on the signboard outside the Uralba Street premises, opposite Lismore Base Hospital.
Details

Written by

staff

Introduction
In 2009, Bessel Van Der Kolk and colleagues worked on defining Developmental Trauma for the purpose of inclusion in the DSM5. It was not included in the much-criticised 2013 update of the Manual, but real life tends to lead the way, and it is well accepted that people have been treated for this condition for some years.
Details

Written by

Sharon-marie Hall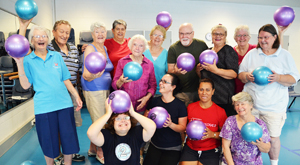 Lismore City Council has won a national award for best practice in creating healthier communities. Presented at the 2014 Heart Foundation Local Government Awards in Coffs Harbour on 20 October, the award for Lismore's Move2Change was in the category of 'Councils with populations greater than 15,000'.
The winning program delivers low-cost exercise programs through the Goonellabah Sports & Aquatic Centre and in Lismore's villages.
Details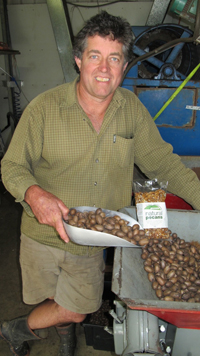 Robin Osborne visits an iconic Nimbin valley farm to see how agricultural innovation delivers commercial success and helps local people stay healthy.
On land where generations of his forebears raised dairy cows, beef cattle and pigs, Frank Boyle grows pecan nuts and rice, not only farming these crops but value-adding to them by doing the processing, packaging and even the retailing.
Details

Written by

Robin Osborne
NSW Health Minister Jillian Skinner chose Lismore as the site for the 7 November 2014 launch of the NSW Rural Health Plan – Towards 2021, perhaps to honour the contribution of well-known local surgeon, Assoc Prof Austin Curtin, who co-chairs the 22-member Ministerial Advisory Committee for Rural Health (which also includes Lismore Base Hospital's manager of medical imaging, Denys Wynn).
The report identifies three key "Directions" – Healthy rural communities, Access to high quality care of rural populations, and Integrated rural heath services, and describes three "Strategies" for achieving them: Enhance the rural health workforce, Strengthen rural health infrastructure, research and innovation, and Improve rural eHealth.
"We want to make sure people in rural areas can access the right care, in the right place, at the right time," the Minister said.
Details
Read more: Major rural health progress, more to do – Health Minister launches plan