Details

Written by

Dr Benjamin Watson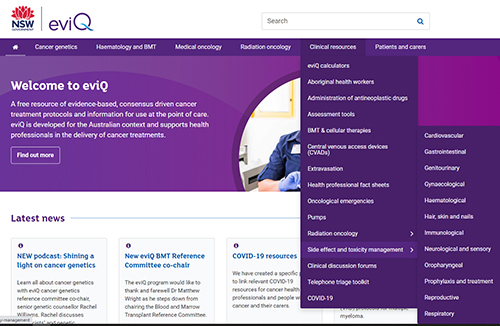 Oncology and haematology are currently experiencing a significant shift in therapeutics, with more novel agents being produced and immunotherapy being approved for a greater range of malignancies and circumstances. Even for specialists in the field, keeping up to date with the latest agents, their use and their side effect profile is challenging.

Immunotherapy
The importance of the interaction between a tumour cell population and the immune system is currently being studied extensively, with notable inroads into changing the balance in favour of the patient.
Details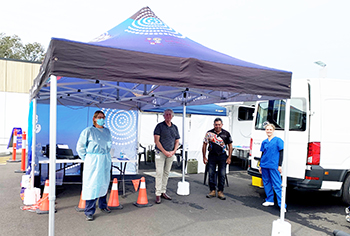 by Scott Monaghan, Andrew Black, Marion Tait, Hannah Visser
Bulgarr Ngaru Medical Aboriginal Corporation (BNMAC) was established in 1991 to provide health services to the Aboriginal communities of the Clarence Valley, and now operates a regional network of comprehensive primary health care services covering the traditional clans of the Yaegl and Gumbaynggirr Nations and a large proportion of the Bundjalung footprint.
BNMAC provides services to communities from Tweed Heads to Grafton, including Grafton, Baryulgil, Malabugilmah, Yamba, Maclean, Casino, Box Ridge, Muli Muli, Tabulam, Kyogle, Tweed Heads South, Chinderah, Fingal Heads and Banora.
The emergence of the global pandemic necessitated BNMAC, like society at large, to respond to unprecedented circumstances. The extensive media coverage, the incessant social media postings, even conspiracy theories, heightened the confusion and anxiety felt by many in the Aboriginal community. The economic situation of disadvantaged communities added to this anxiety.
From the start we knew that access to reliable and timely information about the virus was important. Soon BNMAC took on the role of trusted information broker in regard to the virus. Facebook proved a viable platform for disseminating accurate information to the community. This was supplemented by BNMAC health workers communicating important information through their networks.
In developing a response to the new circumstances, social and cultural matters relating to the Aboriginal community were thought through carefully and consulted upon with the community and the Aboriginal staff at BNMAC. We recognized that the Elders had to be protected, given their custodianship of community knowledge and their role in Aboriginal community life.
Read more: How an Aboriginal Medical Service handled COVID-19 risks
Details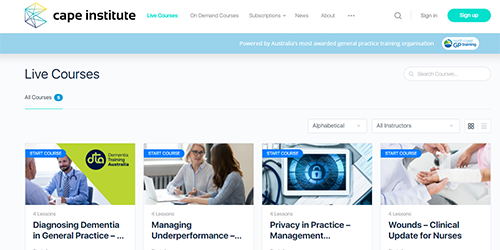 On 1 July 2020, North Coast General Practice Training (NCGPT) launched CAPE Institute, continuing to deliver quality education for clinicians but now expanded to include practice teams as well. CAPE's systems simplify tracking education and training records, a new burden for health professionals, now necessary under AHPRA's updated CPD requirements. 
NCGPT was known as a not-for-profit organisation that has always had quality general practice at its heart. NCGPT was faced with the prospect of operating without a grant from a major funder, following an unexpected decision from the Primary Health Network to establish an in-house team to develop and deliver clinical education in their catchment. This role was previously undertaken by NCGPT on their behalf. 
The Board of NCGPT has been encouraged by feedback from clinicians in the region and had already been considering strategies to build a sustainable future. After talking to local clinicians we realised there was a significant appetite for affordable, reliable, unbiased, independent education. 
GPs, Nurses and Allied Health Professionals reported unmet education needs and expressed frustration about the cost and inconvenience of meeting their CPD requirements. GPs felt 'swamped' with education about national priorities and COVID-19, but said it was harder to find independent, practical and sponsor free education that was relevant to regional general practice. 
Read more: CAPE Institute for Clinical And Practice Education 
Details

Written by

Dr Chris Ingall with Dr Austin Curtin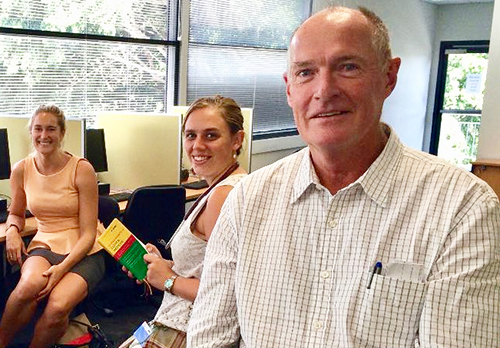 Dr Chris Ingall talks to recently retired Lismore surgeon, Dr Austin Curtin AM
I'm enjoying a cup of tea with Austin Curtin,  looking out at the huge fig trees that define his garden. It strikes me how their deep roots and strength allow such reach across the lawn, and how that is mirrored in Austin's approach to his vocation over nearly 40 years here in Lismore. He tells me of his decision to leave Sydney's Royal North Shore Hospital in the early 1980s and how it was viewed with bafflement by his peers, who saw no advancement in serving 'the bush'.
You use the word 'serving' quite a bit. Does that come from your formative years?
Well I was Jesuit trained, and one of the Jesuit mottos is 'Men for Others', which articulates the idea of service developing self-worth. I'm also a third-generation doctor and I guess I was inculcated with medicine as a vocation rather than a job. I have always seen rural and remote medicine as needing a voice, deserving of more attention from what is still a strongly metropolitan-based health system. Indigenous health stands to gain from taking this perspective, and I have always thought it a privilege to represent both rural New South Wales and indigenous communities.
Details

Written by

Robin Osborne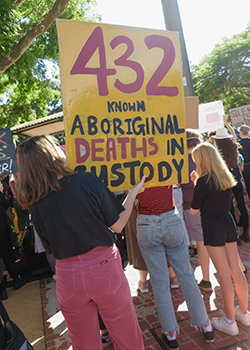 Photos of the Black Lives Matter rally in Lismore were taken by our editor, Robin Osborne. 
On Saturday 4 July crowds estimated at up to 5000 in Byron Bay and more than 1000 in Lismore gathered for Black Lives Matter rallies in solidarity with African-Americans experiencing police brutality and Aboriginal deaths in custody in Australia.
Although the local federal MP Kevin Hogan (Nats, Page) described the Lismore rally as "not okay" because of COVID-19 risks, protest organisers insisted the time was right to shine a spotlight on the "ongoing systemic racism" in this country. Rally volunteers moved through the crowd to offer hand sanitiser and masks to anyone who came without them.
Read more: Black lives mattered for thousands at local rallies