Details
The North Coast Primary Health Network's three Clinical Councils have asked the federally-backed body's senior management, along with the heads of the region's two Local Health Districts, to place more emphasis on the "energy and environmental sustainability of health-care-related activity".
In a recent letter the Hastings Macleay, Mid North Coast and Northern Clinical Councils acknowledged work to date on enacting sound policies – for instance, the Mid North Coast LHD's Energy & Environmental Sustainability project has included the installation of extensive solar panels at Port Macquarie Base Hospital, saving $1/4m in two years.
However, the Clinical Councils spoke of a "climate emergency" and said they "wish to do more to both support and be supported by our state and federally funded health organisations".
Read more: Clinical Councils seek action on "climate emergency"
Details

Written by

David Guest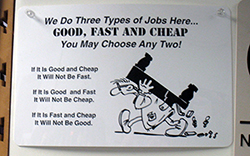 "Good, fast, cheap. Pick any two."
This business aphorism reflecting the economics of scarcity is relevant to most aspects of human behaviour. If something is good, demand rises quickly and suppliers are then faced with three choices; increase the price, delay the delivery time for the goods or services, or reduce quality.
One can escape from these economic constraints only through developing new techniques or innovations that allow for faster, better or cheaper delivery without compromising any of the other parameters, at least to any great extent.
Doctors have a fair idea of what constitutes good medical practice. GPs have encapsulated these principles in the basic tenets of the "Medical Home". In Australia the Medical Home is a person-centred offering, comprehensive, continuous and coordinated care that is readily accessible and of high standard.
For patients the question is much more difficult. They have no domain specific knowledge of their problem. They, largely, cannot tell good quality from bad, at least initially. However, they readily understand time and money and may base their decisions on those parameters.
Details

Written by

Rachel Guest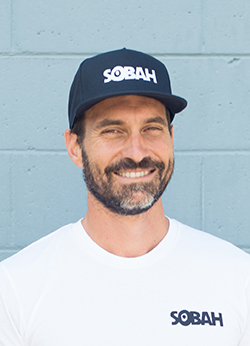 Let's stay Sobah… How a non-alcoholic craft beer helps us enjoy a healthier life.
Dating back to the First Fleet, Australians and alcohol have a long and storied relationship. The 2019 Annual Alcohol poll found 79 percent of Australians who consumed 6 to 10 standard drinks on a typical occasion considered themselves responsible drinkers, as did 64 percent of Australians who drink to get drunk at least twice a week. The Foundation for Alcohol Research and Education chief executive Michael Thorn said the nationally representative online survey confirmed once again that, "Australia has a problem with alcohol".
Although, still largely Australia's drug of choice, on the flip side of the coin, some Australians are beginning to question the role of alcohol in their lives. According to Drinkwise, 20 percent of Australians abstained from alcohol in 2017, an 11 percent increase from 2007.
One such ex-drinker is Clinton Schultz. The motivation to ditch the booze was a simple one for this father of two -- an earnest request from his kids to give up the "silly drink". Although Clinton never felt his drinking was out of control, understanding that giving up alcohol was highly likely to make him a more present, healthy, and energetic parent was enough to kickstart his sobriety journey: "I decided to go completely sober for family reasons. For me, that was enough reason to give up drinking."
Details

Written by

Dr Daniel Bills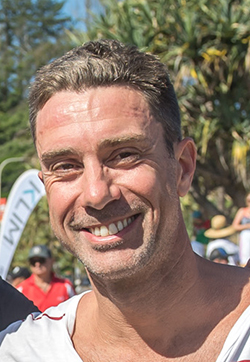 The routine is monotonous but, somehow, part of the appeal. The alarm sounds at 4.45 am and I swing my legs from under the covers, and guide them onto the floor boards, the only clue as to the season. The ritual continues… feeding of animals, breakfast and coffee, the goal being to exit the the garage at 5.15. The journey is invariably notable for the lack of recollection, with arrival at the pool being the first stable memory of the still-young morning.
The next is the cool of the water as it rushes over my skin, focusing my attention on the present.
I was always something of an "aquanaut", a competitive swimmer in my early teens before playing waterpolo for the Victorian junior team, representing USyd at the University games in water polo and being selected in the Universities' Green and Gold side.
But then somewhere in the melange of training, work, and life at large my love of the pool slowly evaporated. Whilst playing waterpolo I continued swimming but its rewards had disappeared. Then, five years ago, I started a comeback of sorts, swimming at Lismore baths with a local coach.
Details

Written by

Robin Osborne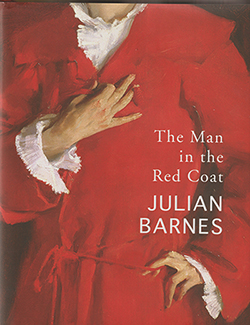 This learned and beautifully produced book delivers the story of Dr Samuel Pozzi, a pioneering gynaecologist, and two fellow bon vivants, into the hands of one of the finest contemporary novelists. This is Barnes' eighth foray into non-fiction, helped by a heaven-sent character and a time in history, the Parisian Belle Epoque, when almost anything went.
The tale begins in the mid 1800s when what Barnes dubs a "strange trio" embarked on what they called an "intellectual shopping trip" to London. While luxury shopping was undertaken, and museums visited, carousing and debauchery were more often on the agenda.
The tale oscillates between the capitals of France and England, more often the former as the author explores the mores and social connections of the period, helped greatly by his passion for the French language and Gallic ways, which led to his being awarded the Legion d'honneur in 2017.