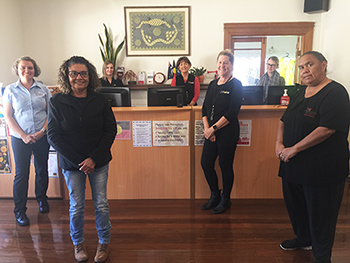 The development of Rekindling the Spirit Health Service dates back 17 years, its roots lying in what was called Gurgun Bulahnggelah (meaning "agree to walk together"), an Aboriginal health promotion service provided by Elli Bradshaw and Teena Binge of the then-North Coast Area Health Service's Public Health Unit.
Since 1998, the premises had been occupied by the NSW Local Health District's Aboriginal Health Education Officers. It was suggested that some primary care health services were needed on the site as well, and I nominated myself and sought the assistance of GP colleagues Angela Bettess and Carol Stevenson. We commenced and provided the GP service linked to the Casino Aboriginal Medical Service (AMS) as an outreach service.
Details

Written by

Andrew Binns
Read more: New home for Rekindling the Spirit Health Service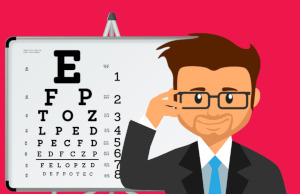 When it comes to IT, government departments are sleeping giants. They rarely move but when they do they take gargantuan leaps. 
In December 2019 Transport for New South Wales (TfNSW) took over the running of the Roads & Maritime Service (RMS) and hence the issuance of commercial and private drivers' licenses. 
The RMS had been gradually rolling out digital licenses since 2017 as part of its drive to increased efficiency, and this continues under TfNSW. Applications for a digital driver's license are accessed through the Service NSW website. 
In a similar drive for increased proficiency TfNSW is also encouraging the renewal or upgrade of licenses through their online service. As a "web service" the renewal can be done any time and at any place. In practice this means it is usually done after hours at home. This is more convenient and efficient, and is encouraged in the era of social distancing under COVID-19.
Details

Written by

David Guest
Bulgarr Ngaru Medical Aboriginal Corporation (BNMAC) was established in 1991 to provide health services to the Aboriginal communities of the Clarence Valley, and now operates a regional network of comprehensive primary health care services covering the traditional clans of the Yaegl and Gumbaynggirr Nations and a large proportion of the Bundjalung footprint. 
BNMAC provides services to communities from Tweed Heads to Grafton, including Grafton, Baryulgil, Malabugilmah, Yamba, Maclean, Casino, Box Ridge, Muli Muli, Tabulam, Kyogle, Tweed Heads South, Chinderah, Fingal Heads and Banora.
The emergence of the global pandemic necessitated BNMAC, like society at large, to respond to unprecedented circumstances. The extensive media coverage, the incessant social media postings, even conspiracy theories, heightened the confusion and anxiety felt by many in the Aboriginal community. The economic situation of disadvantaged communities added to this anxiety.
Details

Written by

Scott Monaghan, Andrew Black, Marion Tait, Hannah Visser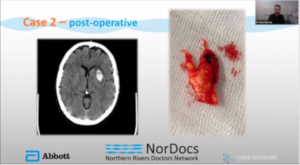 The inaugural Nordocs webinar was held on Saturday 8 August, 2020, on the subject of "Timely Carotid Artery Disease Management". 
The meeting featured local physician, Dr Jowita Kozlowska, and vascular surgeon, Dr Dom Simring. It was produced in conjunction with the Cape Institute and was generously sponsored by Abbott Vascular. 
The webinar was recorded and is available from the Nordocs Vimeo site. The password for the recording can be obtained from the Nordocs Facebook page.
Details

Written by

David Guest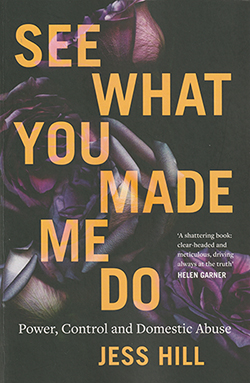 See What You Made Me Do

By Jess Hill

Black Inc 402pp
With apologies for the crudeness, one comes to this book, sub-titled 'Power, Control and Domestic Abuse', as if picking up a plastic bag of dog turds discarded by an irresponsible walker. Take a deep breath, fasten your seat belt, this will be an uncomfortable ride.
The subject matter is so unpleasant and the case histories so harrowing that the reader is likely to recoil with a mix of horror and disbelief: how can people treat others, mostly women and in all likelihood partners, so dreadfully; how can so much of society, not least family members, turn a blind eye; and how can authorities be so unsupportive of those suffering the injustices of this all-too-common abuse?
That said, extracts from police logs of domestic violence call-outs show the magnitude and intensity of the problem, and the challenges of officers to face some dire circumstances, while concerned relatives often feel powerless to intervene.
In seeking to answer these challenging questions Jess Hill has delivered a highly intelligent book that was four years in the research and writing, and which won this year's Stella Prize for women's literature. Widely acclaimed, and with considerable publicity, it has helped focus the spotlight on the ghastly yet hidden crimes occurring in households throughout Australia.
Details

Written by

Robin Osborne