The Northern Rivers Doctors Network is holding its first webinar on Saturday, 8 August 2020 at 8.00 a.m. on the subject of Carotid Artery Disease. 
The meeting will feature case discussions and a Q&A with Dr Dom Simring, consultant vascular surgeon, and Dr Sue Baumann, a consultant neurologist who has recently moved to the North Coast. 
The facilitator for the webinar is Dr Peter Silberberg. Peter has had a long association with North Coast GP Training when it ran the local GP registrar training program. More recently he has been involved with general education in the North Coast primary care sector. 
Details
Read more: Inaugural Nordocs Webinar - "Don't Get Caught with Carotid Artery Disease"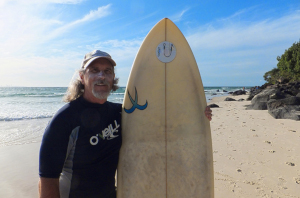 Researchers at Southern Cross University have launched an Australian-first study to determine the rates and types of skin cancers among surfers, swimmers and stand up paddle boarders (SUPs). The study, a joint initiative with John Flynn Hospital on the Gold Coast, is offering free skin checks at locations in Tugun and Mullumbimby to year-round water lovers aged 18 years and over. 
Participants in the study will be asked to complete a research questionnaire, according to project leader Dr Mike Climstein, senior lecturer in Clinical Exercise Physiology at SCU's Gold Coast campus.
In 2016 Dr Climstein conducted an online self-reporting study that found the rate of melanomas among surfers was up to three times higher than the rest of the Australian general population.
Details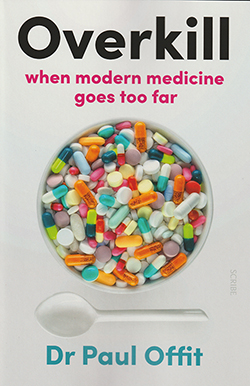 Book Review - Overkill
Dr Paul Offit
Scribe 288pp
With ample end notes (50 pages worth) to support challenges he may expect to be forthcoming, this hit-list of medical myths and misguided therapies comes from a highly reputable source - the director of Vaccine Education at the Children's Hospital in Philadelphia and a professor of vaccinology and paediatrics. He is also the author of ten previous works.
From both a clinician's and a consumer's perspective, Dr Offit's narrative is disturbing one, indicating a massive waste of money on ineffective treatments and the delivery of false hope to patients who continue to believe in the "miracles" of modern medicine, or perhaps just canny advertising.
Details

Written by

Robin Osborne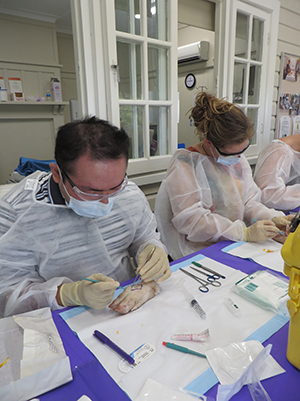 In April, University of Wollongong (UOW) final year medical students joined their peers from the University of Sydney and Western Sydney University in a clinical skills training day at the University Centre for Rural Health's Lismore campus. This was part of a week of training to prepare them for the Assistant in Medicine (AIM) program. Another ten UOW final year medical students, placed at UCRH's Murwillumbah Hub, undertook similar training.
The AIM Program is a Department of Health initiative designed as a bridging program to fast track final year medical students into the medical workforce in preparation for the potential COVID-19 surge. The number of AIM positions available is yet to be determined and will be dependent on clinical need.
The Lismore day included a tutorial program covering practical processes such as handover and referral notes, completing discharge summaries, death certificates; interpretation of ABGs and ECGs as well as a session on breaking bad news. Students also rotated through practical skills stations including hand hygiene, appropriate use of personal protective equipment (PPE), IV cannulation, urinary catheterisation, basic life support, and suturing. These skills were delivered by a number of clinicians from the Northern NSW LHD, including Surgeons, Emergency Physicians and GPs.
Details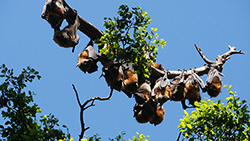 When I studied virology as a vet student decades ago, it was accepted as a general rule that each species of virus was uniquely adapted to a single host species. Dogs didn't get cat viruses and vice versa. You can't get the cat-flu from your cat or give your flu to your dog etc.
Ferrets are a somewhat random exception: they have similar respiratory physiology, and the same sialic acid receptors that human Influenza viruses latch on to. So, you can get Influenza virus from your ferret, as well as passing it on to your ferret, and they provide a critically important animal model for studying influenza and other human viruses.
However, I digress…
The exception to this general rule, a species-jump or spill-over resulting in a novel viral zoonosis, has certainly made life more complicated of late. Whilst some of the recent zoonotic viral epidemics and pandemics have originated in monkeys (HIV from Simian IV), birds (H5N1 and others) and pigs, in the last two decades three large-scale disease outbreaks, including the current SARS-CoV-2, are coronaviruses that originated in bats. others are SARS in 2003, MERS in 2012, and SADS (Swine Acute Diarrhea Syndrome). Two of those three outbreaks began in China.
Details

Written by

Mike Fitzgerald, Mike Fitzgerald, Veterinary Surgeon, Alstonville