Details

Written by

Staff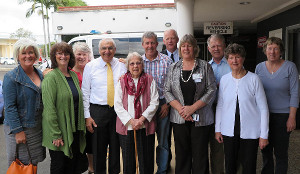 Construction work on the new Bonalbo Multi Purpose Service (MPS) is set to begin in mid-2015, the state Member for Lismore Thomas George announced on 24 September 2014.
Estimated at more than $15 million, the project is funded out of the NSW Government's Multi Purpose Service stage five program and will fill service gaps that have existed in the inland town for some years.
The announcement follows the recent commencement of GP Dr Sunil Sunil, hailing from India via NZ and Coonamble, NSW who has taken took up residence, and practice, in the town.
Dr Sunil fills the large – and long-lasting – shoes of Dr Trevor Tierney who served the community for some 30 years until retirement in 2011. Locums filled the gap after he left, with Dr Kate Ealing in residence for the past year.
Details

Written by

Staff
In an age of rising obesity and mounting chronic disease, we believe Australians are becoming less healthy, making the national health budget blow out as fast as people's waistlines.
But one set of statistics suggests otherwise: in 2012-13, the latest period surveyed, estimated spending per person on health averaged $6,430, some $17 less per person than in the previous year http://www.aihw.gov.au/publication-detail/?id=60129548871
The new report from the Australian Institute of Health and Welfare (AIHW),
Details

Written by

Robin Osborne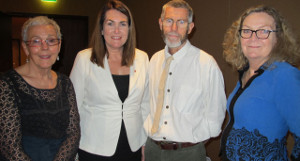 Robin Osborne reports on the Lismore hearing of the high-level Senate Select Committee on Health.
Given the balance in Australia's new Upper House, the once powerful Labor-Greens forces rarely get a chance to dominate Senate related activities.
However, a whiff of past power was in the air at the Lismore Workers Club on 15 September when the Senate Select Committee on Health held a one-day inquiry into local views about health care planning and service delivery.
The Committee's terms of reference are detailed on the inquiry's home page
The criteria include a focus on Indigenous and rural health, the better integration of Medicare related services such as access to GPs and other care providers, and the implications of "reduced Commonwealth funding."
Details

Written by

David Miller
As a long serving GP in the Byron area, I have watched the population grow alongside crowding of the roads with trucks and cars. There are not many peaceful places left for people to walk or cycle. In our beautiful countryside we can only look at farms across barbed wire. Horse and dog owners have an even bigger problem, Yet there is an exciting solution on our doorstep.
'The long paddock' was the nickname given to the old stock routes and serves as a model for freedom of a good long walk in the country.
You don't need to be a doctor to appreciate the health benefits of walking to mind and body.
Details

Written by

Sally Herbert, NPS Pharmacist
Poor asthma control is common, and increases the risk of flare ups requiring oral corticosteroids, hospitalisation or emergency department (ED) visits. Asthma is managed at 5% of GP encounters with children and 2% with adults, with a significant percentage of these encounters being due to emergency appointments relating to flare ups and poor asthma control. Deaths from asthma remain high in Australia compared with many other countries.
NPS Medicinewise in partnership with North Coast Medicare Local has launched a new educational program for health professionals titled "Exploring inhaled medicines use and asthma control. The program focuses on changes to the asthma guidelines from the Australian Asthma Handbook (AAH) updated in April 2014. You can order a free copy of the Quick Reference Guide from the National Asthma Council 03-99294333 or view the handbook online. 
Read more: Exploring Inhaled Medicines Use and Asthma Control